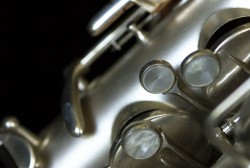 MEDIA CONTACT: Lisa Lacher, 515-271-3119,
lisa.lacher@drake.edu
James Romain, associate professor of saxophone at Drake University, will present a faculty recital at 8 p.m. Sunday, Feb. 8, on the Jordan Stage of Sheslow Auditorium in Old Main, 2507 University Ave. The recital is free and open to the public.
ChamberSax will feature chamber music that beautifully weaves the timbre of the saxophone into a variety of instrumental textures.
The program includes:
"Printemps" (Springtime) by Henri Tomasi for alto saxophone with woodwind quintet
"Scaramouche" by Darius Milhaud for alto saxophone with woodwind quintet
"Quintet" by Adolf Busch for alto saxophone with string quartet
"Quartet, Op. 22" by Anton Webern for violin, clarinet, tenor saxophone and piano
"Sextour Mystique" by Heitor Villa-Lobos for flute, oboe, alto saxophone, guitar, harp and celesta
"Epitaphe de Jean Harlow" by Charles Koechlin for flute, alto saxophone and piano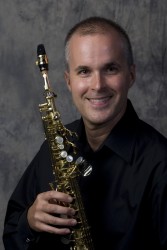 James Romain
"Each work imaginatively weaves the saxophone into a different chamber
texture," Romain said, "and the results will prove to be compelling."
Joining Romain in ChamberSax will be:

Clarence Padilla, professor of clarinet
Leslie Marrs, assistant professor of flute
Sarah Plum, assistant professor of violin
Ashley Sidon, assistant professor of cello
Nicholas Roth, assistant professor of piano
Sherida Josephson, viola
Aaron Powell, guitar teaching artist
Jennifer Bloomberg, oboe teaching artist
Tim Gale, bassoon teaching artist
John Helmich, violin
Guinevere McIntyre, horn teaching artist
Mary Foss, harp