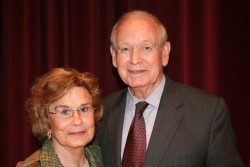 RaySociety takes its name from well-known Drake alumni — former Iowa Gov. Bob Ray and his wife, Billie Ray.
MEDIA CONTACT: Tory
Olson, 515-271-1834, tory.olson@drake.edu
Drake University's RaySociety,
an educational organization for people of retirement age, will present new
courses for the spring semester that highlight the Drake Relays, medical
conditions of aging and the Vietnam War, among others. A detailed spring 2009
course catalog is available online.
Celebrating 100 Years of the Drake Relays will explore the
rich history of the annual event and veteran Relays observers, including Drake
Athletic Historian Paul Morrison, are scheduled to participate in the
four-session course.
RaySociety also will offer part two of Overcoming the
Aches and Pains of Aging, which will address major medical conditions such as
dementia disorders, cancer, vascular disease and eye ailments. Physicians from
a variety of Des Moines-area medical clinics will provide insight on how to
identify, cope with, treat and overcome these diseases.
Vietnam War veterans are invited to attend the
RaySociety's spring series on The Vietnam War: An Iowa Perspective. Each
veteran may bring a guest to the classes. Veterans and their guests will be
admitted free.
Other courses include:
The
Foundations of Western Scientific Thought
Middle
East Perspectives
Home
Computer Security
The
Dead Sea Scrolls, the Bible, Early Judaism and Early Christianity
Introduction
to Women's Studies
Modern
American Drama
Harvesting
Wisdom in the Second Half of Life
Energy
Resources: What Are Our Alternatives?
A schedule of events, including a tour of the Polk County
Jail, the Des Moines Art Center, a Drake women's basketball game and a Bonsai
program at the Des Moines Botanical Center, is also available online.
The RaySociety's annual membership fee is $50 (June 1
through May 31). Classes cost $25 each. For more information about RaySociety
classes and events, contact Rena Wilson at 271-2120 or by e-mail at rena.wilson@drake.edu.
The Billie and Robert D. Ray Lifelong Learning Society at
Drake University offers programs and courses on a variety of topics targeted at
retirement-age people interested in learning in a college atmosphere. The
society takes its name from a pair of distinguished Drake alumni: former Iowa
Gov. Robert D. Ray, who also served as the University's president, and Billie
Ray, former first lady of Iowa and a former schoolteacher.