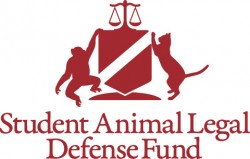 Drake's Law School recently gained a new organization for law students — the Student Animal Legal Defense Fund. The University is the 131st law school with a chapter of SALDF.
With 23 active members, the organization is dedicated to providing a forum for education, advocacy and scholarship aimed at protecting the lives and advancing the interests of animals through the legal system.
"Animal law is a combination of statutory and case law," said SALDF President Adrienne Sula, a second-year law student of Dubuque, Iowa. "It encompasses companion animals, wildlife, animals used in entertainment and animals raised for food and used in research."
The chapter plans to host speaker forums on a variety of animal issues, implement a course in animal law, get involved with Drake's Beautiful Bulldog Contest and facilitate a rehabilitation program in which prison inmates work with and train shelter dogs for adoption.
For more information about the Animal Legal Defense Fund, visit the national Web site at http://www.aldf.org or contact Adrienne Sula at
adrienne.sula@drake.edu
.