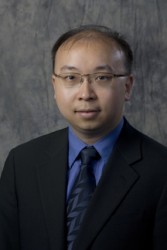 Peter K. Yu
At the end of this February, intellectual property and technology law scholars from around the world will gather at Drake Law School for the 2009 Intellectual Property Scholars Roundtable.
The event features presentations from more than 50 experts from the United States, as well as Australia, Canada, China, Finland, Israel, Singapore and the United Kingdom.
"Since its establishment, this roundtable has attracted to the Drake campus a large number of leading scholars in the fields of intellectual property and technology laws," said Professor Peter K. Yu, the Kern Family chair in intellectual property law and the founding director of the Intellectual Property Law Center.
"This event is highly interdisciplinary and includes speakers from outside the legal field," Yu added. "We are very proud to make it part of our annual tradition."
The roundtable will take place Friday, Feb. 27, and Saturday, Feb. 28, from 8:30 a.m. to 6 p.m., at the Neal and Bea Smith Law Center Courtroom, 2400 University Ave. in Des Moines.
Scholars will share their latest research in the areas of copyright, cyberspace, patent, trademark and international intellectual property laws. Participants will also interact with Drake law students studying in the field.
To highlight the teaching quality of the Drake faculty and the university's mission to provide an exceptional learning environment, this year's roundtable includes a special session on pedagogy in the intellectual property field.
To register for the roundtable contact Landra Carty at 515-271-2141 or
landra.carty@drake.edu
. Cost is $150 for non-Drake, non-student participants and free for students and Drake alumni and faculty.
Located in the Iowa's state capital, the Drake Intellectual Property Law Center serves as a key national focal point for intellectual property research and teaching.