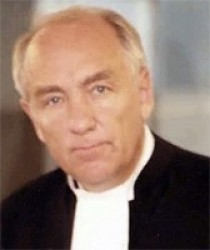 Stephen Rapp
Drake Law School's 72nd annual Supreme Court Celebration will culminate with the Supreme Court Banquet on Saturday, March 7. The evening will feature a keynote speech by Stephen Rapp, LW'74, prosecutor of the United Nations Special Court for Sierra Leone.
The banquet will begin with a reception at 5:30 p.m., followed by dinner and the program at 7 p.m. at the Des Moines Marriott in downtown Des Moines.
Rapp, former U.S. attorney for the Northern District of Iowa, will discuss his experiences prosecuting defendants charged with war crimes and crimes against humanity. His speech is titled "But You Cannot Bring Them Back: Reflections on Justice for Victims of the Greatest Crimes."
During his visit, Rapp also will give a special lecture for Drake students at 11 a.m. on March 6 in room 213 of Cartwright Hall. His talk will cover "Recent Developments in Criminal Responsibility for Joint Conduct at International Courts."
Rapp and the Special Court, an independent tribunal established jointly by the United Nations and Sierra Leone, are tasked with bringing to justice those responsible for atrocities committed during a civil war in the west African country after November 1996.
The Special Court has jurisdiction over the case against the notorious former Liberian President Charles Taylor, whose trial is being held at The Hague in the Netherlands.
Prior to joining the Special Court, Rapp served as chief of prosecutions at the International Criminal Tribunal for Rwanda from May 2005 until December 2006, supervising the prosecution of those accused of the worst crimes during the 1994 Rwandan genocide.
He also served as an elected member of the Iowa Legislature and as a lawyer for the U.S. Senate Judiciary Committee.
The Supreme Court Celebration also will include dinners for the Drake Journal of Agricultural Law, Drake Law Review and Drake Moot Court. In addition, there will be the annual Supreme Court Competition.
Each year, outstanding advocates in the law school compete in the Supreme Court Competition for the honor of presenting final arguments to the Iowa Supreme Court. The competition is based upon a real case, using an actual record that was pending before the Iowa Supreme Court, thus giving competitors a realistic experience. This year's case hinges on whether the Iowa Supreme Court should establish an affirmative claim for breach of an employee's common law duty of loyalty.
The competition is open to all second- and third-year law students and consists of two preliminary rounds, one on-brief and one off-brief. Each competitor argues individually in the preliminary rounds. The four top advocates based upon oral scores from the preliminary rounds will advance to the Supreme Court Competition before the Iowa Supreme Court at 10 a.m., Saturday, March 7, at the Iowa Judicial Branch Building.
The four finalists are paired as teams of two for the final round. The winners will be announced at the Supreme Court Celebration Banquet.