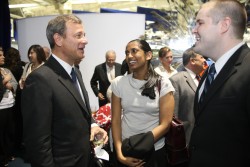 Chief Justice John Roberts talks with students after his Opperman Lecture, which recently was published by Drake Law Review.
For the fourth consecutive year, the Drake Law Review ranks among the top 30 law reviews nationally for the number of times courts have cited its articles.
The new rankings, compiled by John Doyle of the Washington and Lee Law School Library, show the Drake Law Review had 60 citations, according to the 2008 data. Drake is in the top group of more than 1,400 journals in the rankings, which are available online.
"We are justifiably proud of the continued high ranking of the Drake Law Review," said Law School Dean Benjamin B. Ullem. "It demonstrates that the courts have found the journal's diverse collection of scholarship helpful to the judiciary in the law-making process."
The Drake Law Review is published quarterly by Drake law students.
"The editorial staff makes a conscious attempt to provide articles, notes and lectures that are practical in application, yet forward in thought and purpose," said Joshua Patrick, editor of the publication.
The first issue of Volume 57, which was published this week, features the remarks of the Chief Justice of the United States John G. Roberts Jr. when he delivered the Dwight D. Opperman Lecture in Constitutional Law at Drake in October.
In addition, this issue contains an article by Stephen J. Rapp, LW'74, prosecutor of the United Nations Special Court for Sierra Leone. The article is titled "The Compact Model in International Criminal Justice:  The Special Court for Sierra Leone."
Other articles in this issue are:
"ERISA Disability Claims in the Eighth Circuit" by Terrence D. Brown
"Parsing Supreme Court Dicta to Adjudicate Non-Workplace Harms" by Lisa M. Durham Taylor
"Federal Courts as Constitutional Laboratories: The Rat's Point of View" by Maureen N. Armour
The issue also includes student-written notes on the following topics:
"In the Best Interests of the Child and the State: A Call for Expansion of Iowa's Postsecondary Education Subsidy Law" by Scott A. Hall
"The Inconsistent State of Municipal Home Rule in Iowa" by Jay P. Syverson