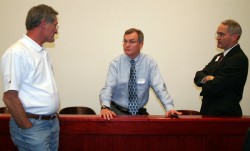 Keith Puntenney, left, and David Lynch, right, chat with Iowa Utilities Board Chair John Norris at the forum.
More than 45 attorneys from across Iowa attended a Wind Rights Legal Forum sponsored by the Drake Agricultural Law Center in November at the Neal and Bea Smith Law Center.
They heard from nine speakers involved with drafting and negotiating wind rights agreements. The session was held in conjunction with the Agricultural Law Section of the Iowa State Bar Association and with support from the Iowa Utilities Board.
IUB Chair John Norris welcomed the attendees and offered to cooperate with Drake on providing Iowans with more information and resources relating to wind development.
"We're gaining information and the expertise of people who have been dealing directly with wind power," said Keith Puntenney, an attorney from Boone, Iowa. "These resources are not readily available otherwise."
Neil Hamilton, director of the Agricultural Law Center and the Dwight D. Opperman chair of law, taught one of the nation's first courses on wind law last spring. He plans to teach the seminar-style course, Legal Issues in Wind Development, again this spring.
Attorneys and students may enroll in the class, which will meet Mondays, Tuesdays and Wednesdays from March 30 – April 29. For more information, send an e-mail to
neil.hamilton@drake.edu
.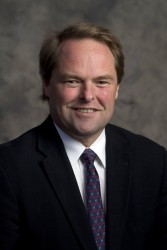 Neil Hamilton
Hamilton was suggested as a candidate for U.S. agriculture secretary before former Iowa Gov. Tom Vilsack was selected for the position by President-elect Barack Obama. Vilsack was a visiting professor at Drake Law School last year and joined Hamilton in teaching a class on rural development.
Hamilton was among six "sustainable candidates" for ag secretary recommended in an online petition that New York Times columnist Nicholas D. Kristof mentioned in a column in December. Since Vilsack was tapped for the post, the petition has been updated to recommend advocates of sustainable agriculture for undersecretary positions in the U.S. Department of Agriculture. Hamilton is among those recommended.
To view or sign on to the petition, visit http://www.fooddemoracynow.org.
"It was an exciting honor to be named in the petition for this position and to see the strong citizen support for sustainable agriculture and the ideals of food democracy," Hamilton said.
"I am very pleased that Gov. Vilsack was nominated to be Secretary and look forward to working with him in any way I can be of service. It is a great opportunity for Drake and our students — as well as for Iowa — to have a friend and former colleague leading the USDA."
Even if he doesn't join the U.S. Department of Agriculture, Hamilton will continue to spend a good deal of time in Washington, D.C. That's because he's working closely with USDA officials to plan the Drake Forum on America's New Farmers. The Drake Agricultural Law Center is organizing the three-day conference, which will be held in May in Washington, D.C.
The conference aims to gather stakeholders from across the U.S. to identify innovative policies and projects at the federal, state and local levels to support new and beginning farmers. In addition, the conference will provide the Obama administration an agenda for developing a campaign to support the next generation of American farmers.