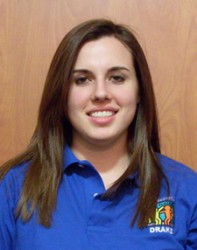 Deanna Berget
MEDIA CONTACT: Tory Olson, 515-271-1834, tory.olson@drake.edu
Drake University junior Deanna Berget recently was selected to be one of 52 student ambassadors for NASA's International Year of Astronomy (IYA).
Berget, an astronomy major from Montevideo, Minn., will participate in the year-long program to encourage undergraduate and graduate students to become involved in IYA activities.
"NASA is a major partner in the United States' celebration of IYA activities," said Hashima Hasan, NASA's Astrophysics education and public outreach leader in Washington, D.C. "The Student Ambassadors Program is just one of many activities the agency has planned throughout the coming year."
The program is designed to encourage college students to participate in IYA activities and get excited about NASA's discoveries in astrophysics, planetary science and solar physics within their local and global communities.
"I would like to help more people understand that science is fun and interesting, and you don't have to have a degree to enjoy it," Berget said.
"I think many people are interested in astronomy, but don't know how to learn more or get involved. I would like to be able to show them ways to get involved and help them enjoy learning about astronomy the way I do."
The search for student ambassadors was done through the National Space Grant Foundation, which supports and enhances Space Grant consortia in every state to carry out education, research and public outreach activities in science, mathematics, engineering and technology.
IYA 2009, initiated by the International Astronomical Union and UNESCO, marks the 400th anniversary of the first astronomical observation through a telescope by Galileo.
It will be a global celebration of astronomy and its contributions to society and culture, with a strong emphasis on education, public engagement, and the involvement of young people, with events at national, regional and global levels throughout 2009.
As a student ambassador, Berget plans to make a special effort to generate an interest in astronomy among children and community members with disabilities. She is an officer in the Drake Best Buddies group, which pairs Drake students with Des Moines students with mental disabilities.
"I would love to plan a group outing for all the buddies to have some fun with astronomy," Berget said. She plans to explore group opportunities at the Science Center of Iowa and the Drake Municipal Observatory.
For more information about Iowa's Space Grant Consortium, which includes Drake University, Iowa State University, the University of Iowa and the University of Northern, visit the Web site. More information about IYA is available online.