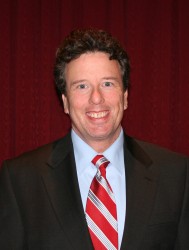 Tom Root
MEDIA CONTACT: Lisa Lacher, 515-271-3119, lisa.lacher@drake.edu
Tom Root, associate professor of finance at Drake University, will participate in a panel discussion about the economic forecast for 2009 on Tuesday, Jan. 20.
The panel will field questions from the audience and the moderator as part of the Business Record Economic Forecast. The other panelists will be:

Joseph Folsom, district director of the U.S. Small Business Administration
Peter Orazem, professor of economics at Iowa State University
David Vaudt, auditor of the state of Iowa
The Economic Forecast will feature keynote speaker John Stoltzfus, director and senior market strategist with the Investment Strategies Group of Bank of America. Stoltzfus will share his insights on what business and economic conditions can be expected in 2009.
The event will begin with registration at 4:30 p.m. at Hoyt Sherman Place, 1501 Woodland Ave. At 5 p.m. there will be presentation of the Prairie Meadows CFO of the Year Award, which is sponsored by Prairie Meadows Race Track and Casino, Bank of America and the Urbandale Chamber of Commerce, City of Urbandale and Urbandale Development Association.
The keynote address and panel discussion will begin immediately after the award presentation. A cocktail reception will follow the panel discussion.
The cost of the entire event is $20 per person.
Professor Root frequently does interviews about economic issues with local media outlets. He also speaks to numerous community groups and will be teaching an Economic Roundtable class focusing on the continuing economic turmoil as part of Drake's RaySociety program, which promotes lifelong learning for people of retirement age.