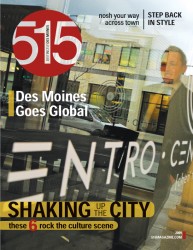 Journalism students launch Des Moines-focused magazine
Drake senior magazine students recently launched a new issue of the student-produced 515 magazine featuring Des Moines residents who are laughing their way to good health, energizing the city's cultural scene and tackling out-of-the-ordinary careers and more.
The magazine, aimed toward young professionals in the Des Moines area, was written, edited and designed by the Drake students as their senior magazine capstone project.
Stories in this issue include: a feature on the health benefits of having a good laugh every day and six young professionals who are shaping the city's cultural landscape through the music scene and downtown development, among other areas.
The magazine also highlights several local residents and how they turned their passions into profit — from painting bodies to brewing beer.
Other stories include a piece on incorporating vintage clothing into your wardrobe and a look at how Iowa's capital is becoming more global through international organizations headquartered in Des Moines.
"The entire 515 staff is extremely talented and dedicated," said Meghan Siroky, Drake senior and editor-in-chief of 515. "We are truly looking forward to sharing our hard work with Des Moines."
Drake professor Lori Blachford says producing the magazine is a unique learning opportunity for Drake journalism students.
"This project really helps the students understand all the work that goes into producing a professional publication," Blachford said. "They not only handled the work load with great poise, they also have done a terrific job of capturing the spirit of the city."
The magazine will be available at coffee shops, bookstores and restaurants throughout the city, or a copy can be requested by contacting the Drake University School of Journalism and Mass Communication at 515-271-3194. Additional stories and information about the staff is online at 515magazine.com.