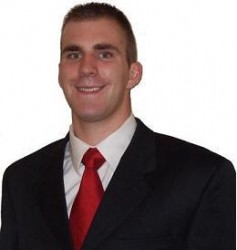 Lucas Beenken
Graduate attributes election win to Drake experience
Recent Drake graduate Lucas Beenken, BN'08, didn't have a
typical four-year college experience.
Before graduating last December, Beenken spent a year
serving with the National Guard in Iraq where he escorted distinguished
visitors such as Secretary of Defense Robert Gates.
He also successfully ran his own campaign and was elected
county supervisor for Iowa's Wright County, which is about 85 miles north of
Des Moines.
Beenken, a 24-year-old Democrat, took office this January
after defeating a 16-year Republican incumbent, Caye Chelesvig, by 35 votes in
the general election last November. He will serve a four-year term in his new
position.
He credits his Drake education for giving him opportunities
that helped him run his campaign.
"I was a finance major and I switched to marketing
because I wanted to work in politics," said Beenken of Belmond, Iowa.
"I didn't know at the time that it would be working on my own campaign.
The marketing major came in handy because I already had experience with public
speaking and creating and managing ads, Web sites, promotional materials and
budgeting."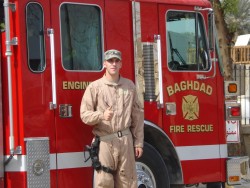 Lucas Beenken during his one-year deployment in Iraq.
He was no stranger to politics in Iraq, where he served with a unit that managed the Joint Visitors' Bureau, which is in charge of providing escort and security to all of the country's distinguished visitors.
Guests included high-ranking generals, celebrities, senators, congressmen, governors, officials from the United States' executive branch and the Department of Defense. Among them were Gen. Petraeus and Vice President Dick Cheney.
Beenken, who is still enlisted in the National Guard, said he enjoyed his role because he got a close-up view of many distinguished politicians.
"I worked at a level of professionalism that most soldiers don't have to meet," he said. "It was an interesting environment and I had the opportunity to meet people that most people don't get a chance to."
While overseas during his deployment, Beenken stayed connected to his hometown and noticed that there were more open positions with Wright County for a school board election than there were candidates. He talked to the county auditor in January of 2008, and inquired about how they could encourage more people to run. Later that spring, she contacted Beenken and encouraged him to run for county supervisor.
Beenken asked for support from family and friends, who helped him get on the ballot for the Democratic primary, which he won last summer. Upon his return from Iraq last May, Beenken began his campaign.
"I went door knocking, sent post cards and talked to as many people as possible," said Beenken, who spent last summer campaigning and taking online classes and then completed his degree during the fall semester.
"It was difficult to juggle the campaign and school," Beenken said. He devoted Monday through Thursday to his studies and the weekends to his campaign, he added.
When asked what topics he hopes to focus on in his new position, Beenken said he is interested in public and mental health and community service. Upon taking office, he was appointed to the Upper Des Moines Opportunity, Empowerment, and Decategorization Board of Directors, as well as advisory commissions for the Department of Human Services and HIPAA (Health Insurance Portability and Accountability Act).
In addition, Beenken will be involved with the Iowa State Association of Counties and the National Association of Counties.
His biggest priority, however, is serving people and meeting their needs. "I think one of the biggest things is being accessible for people," he said, "and to let them guide what I do."