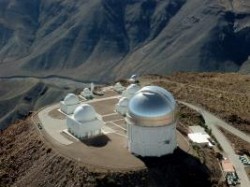 Jordan Mirocha will be working at the Cerro Tololo Inter-American Observatory.
Senior to conduct astronomy research in Chile
Drake University senior Jordan Mirocha will travel to Chile on Jan. 10 to participate in the 2009 Research Experience for Undergraduates Program in Astronomy at the mountaintop Cerro Tololo Inter-American Observatory in La Serena.
Mirocha, who is majoring in physics and astronomy, was selected for the 10-week program based on his academic achievements, research interests and experience, as well as his career goals. A resident of Minnetonka, Minn., Mirocha plans to earn a Ph.D. in astronomy and astrophysics.
"I am extremely excited to have been selected for this program," Mirocha said. "This will be a wonderful way to expand on my research experience. It will be an even more amazing experience given the location in La Serena, Chile."
Funded through the National Science Foundation, the research program will provide a weekly stipend for Mirocha and cover his travel expenses. He also will have the opportunity to spend two nights up on Cerro-Tololo, operating one of the telescopes. Plus, he will take a three-day trip to another observatory in Chile.
In addition, he will work on a research project to calibrate the Gemini Multi-Object Spectrograph to the Lick system of spectral indices, which is an important tool for astronomers because it allows them to determine the ages and compositions of unresolved stellar populations.
"An unresolved stellar population just means that the group of stars being observed cannot actually be resolved into individual stars, so the data you get from the telescope is essentially all light from all the stars put together," Mirocha said.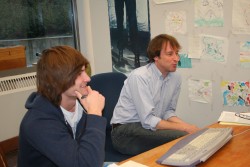 Jordan Mirocha, left, confers with Charles Nelson on their study of active galactic nuclei.
At Drake, Mirocha has been working for more than a year as a research
assistant to Drake Associate Professor of Astronomy Charles Nelson, who
specializes in the study of active galactic nuclei.
"An active galactic nucleus is a galaxy that is experiencing
incredibly powerful outflows from its nucleus," Mirocha said. "The
project we have been working on is focused on a galaxy called NGC 1068.
To make a long story short, we are trying to model the nuclear outflows
of this galaxy in an attempt to learn more about the driving mechanisms
behind them."
Drake Professor of Physics Lawrence Staunton, who chairs Drake's
Department of Physics and Astronomy, highly recommended Mirocha for the
research program in Chile.
Staunton said Mirocha ranks among the top 5 percent of physics
majors he has known in his 34 years at Drake and described him as
"highly qualified" for the Research Experience for Undergraduates
Program.
"He is a very personable, polite, thoughtful athletic young man who
speaks and writes well," Staunton added. "He played varsity football
his first year and is very active now in intramurals, being selected an
All-Star in 5-on-5 basketball. He assists with public presentations at
the Drake University Municipal Observatory and has served with
distinction as a laboratory assistant to our astronomy laboratory
instructors."