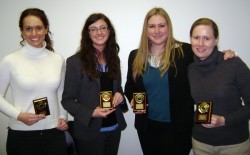 From left to right: Adrienne Sula, Meghann Sweeney, Emily Reninger and Magda Beme.
DRAKE LAW SCHOOL MEDIATION TEAM PLACES SECOND IN INTERNATIONAL TOURNAMENT
One of Drake University Law School's mediation teams recently won second place competing against teams from six colleges and universities at the International Mediation Tournament in London, England.
The Drake team consists of third-year law students Emily Reninger of Waterloo, Iowa, and Meghann Sweeney of Des Moines; and second-year law student Adrienne Sula of Dubuque, Iowa.
"Going to London for this tournament was incredible," Reninger said. "It was very educational to be able to compete with teams from countries that view mediation in a different way than we do here in the U.S. We learned from the other law students there and they learned from us — a truly rewarding experience."
The tournament, which was held at the University of Westminster, included four rounds. Each team member took turns playing the mediator, client and advocate for each scenario.
Drake, which was defeated by a Liverpool John Moores University team, also competed against teams from the University of Westminster, Kingston University, The College of Law and the University of Edinburgh in Scotland.
In addition, the Drake students won awards for performance. Sula received third place for best mediator, Sweeney and Reninger took third place for best client/advocate team and Sweeney and Sula won first place for best client/advocate team.
"The students exceeded our expectations and came home the leading overall team in the tournament with four awards. I couldn't be more proud of them," said Richard Calkins, former dean of the Drake Law School.
Calkins co-coaches the team with 2007 law school graduate Magda Beme of Des Moines and Drake Professor of Law Andrea Charlow, the team's faculty adviser.
The team will compete again at the International Mediation Tournament in Chicago in March, 2009. Each year, Drake Law School sends several teams to compete in the Chicago tournament.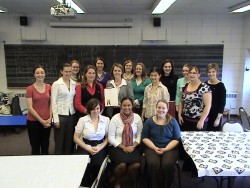 From left: Front: Laura Melone, Mari Adams, Christina Knox; Middle: Katie Owen, Jessie Nay, Tamra Novinska, Amy Truax, Suzie Reiman, Jessica Loos, Kate Dahl; Back: Katy Ryan, Cait Hicok, Stacie Bendixen, Amanda Nunn, Molly Langston, Miranda Bane.
MUSIC FRATERNITY WINS NATIONAL AWARD
Drake's music fraternity for women, Sigma Alpha Iota, recently received the Katherine Becker National Collegiate Chapter Achievement Award.
The award is given annually to a single chapter whose officers and members have demonstrated a strong commitment to music on the local and national level.
Of a possible nomination pool of 212 chapters across the country, the Sigma Alpha Iota chapter won for its work supporting the music program at Drake and promoting music throughout the Des Moines community.
The group organizes concerts in the community and music workshops on Drake's campus for elementary students. The Drake students also have helped raise money for new instruments in the Des Moines Public schools.
The leaders of Sigma Alpha Iota learned of the award and the amazing story surrounding their nomination in mid-November.
The chapter's province officer, Amy Truax, wrote the nomination letter in her Parkersburg, Iowa, home on May 25, shortly before an early June deadline. She left it on her kitchen table, but later that day, an F5 tornado tore through the town and badly damaged her house.
"The house wasn't flattened," said Stacie Bendixen, editor and communications officer of Sigma Alpha Iota, "but a lot of things got blown away or destroyed." Miraculously, the nominating letter remained on the kitchen table — exactly where Truax had left it. She asked a friend to mail it for her in the aftermath of the tornado.
Recently, the Drake chapter contributed to the University's music program by purchasing atomic clocks for the Harmon Fine Arts Center. The chapter contributes to a collective fund for supporting Drake music students' ambitions to attend workshops and master classes.
"We help pay for travel expenses and opportunities they might not be able to afford otherwise," Bendixen said.
The chapter also works with Des Moines students in hopes to get them interested in music. "We do a day for elementary school students where they come to Drake, and we teach them about rhythm, song and dance, and they have a chance to perform for their parents."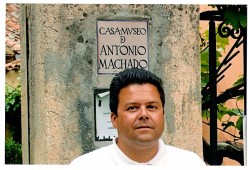 Fred Arroyo
PROF. ARROYO NAMED ONE OF THE TOP 10 NEW LATINO AUTHORS
The selection is based on Arroyo's first novel, "The Region of Lost Names," which was published earlier this year by the University of Arizona Press.
"I have to say that I rarely have so many colleagues recommend the same book," said Jose B. Gonzalez, founder and editor of LatinoStories.com, as well as editor of "Latino Boom: An Anthology of U.S. Latino Literature."
In this case," Gonzalez added, "they knew talent when they eyed it. This is a riveting book with characters of all ages who nevertheless sound so familiar, it's as if the reader has grown up with them."
"Being selected is affirming," Arroyo said. "Many writers struggle with internal and external borders, and for so long I lived with a lack of community, exilic feelings, and yet I aspired to create a 'family' and 'place' through my writing. I'm particularly pleased to be mentioned in the company of many fine Latino/a writers — and to imagine the possibilities of continuing to write within, across, and beyond borders."
To learn more about "The Region of Lost Names," read a National Book Critics Circle review of the novel by Rigoberto González that first appeared in the El Paso Times.
The review is available online.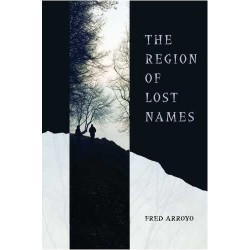 The review describes the book as "the touching tale of Ernest and Magdalene, star-crossed lovers separated by conflicts that predate their families' migration from Puerto Rico. College-educated and building careers in the Midwest, the two discover that they are not immune to repeating their parents' mistakes — though, unlike their elders, they hope to earn forgiveness for the errors of their ways."
Before joining the Drake faculty in 2007, Arroyo had taught writing and literature for six years in the United States, as well as a graduate seminar in ethnic American literature in Madrid, Spain.
At Drake, he teaches classes in short story writing, writing the personal essay and a First-Year Seminar, titled Mother Tongues, which focuses on bilingual and translingual writers. In the future, he plans to teach courses focused on Latino literature.
He holds a Master of Arts in creative writing from Purdue University, a Master of Fine Arts in creative writing from the Program for Writers at Warren Wilson College and a Ph.D. in English from the University of Wisconsin-Milwaukee.
Arroyo grew up in the bilingual community of Hartford, Conn., before moving to Michigan. He writes fiction, poetry and essays. He is working on new fictions and completing a book of essays, "Close as Pages in a Book," in which he explores his interest in literacy and the writing life, while returning to memories of childhood, migration and work.
"Writing is an act of invention and discovery — but it arises out of a deep emotional center, a desire to create lives and stories of substance," Arroyo said. "I find teaching important for sharing stories, and for helping students to achieve their own dreams through reading and writing."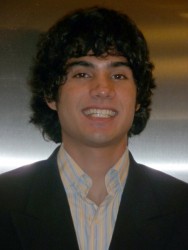 Micah Wright
DRAKE SENIOR EARNS NATIONAL MUSIC AWARD
Micah Wright, 18, a senior at Drake, is one of 140 young artists selected nationally to participate in the National Foundation for Advancement in the Arts youngARTS program.
Wright was one of 6,000 young artists who applied for the program and placed in the top 2 percent of artists. As a finalist, he will receive complimentary travel to Miami in early January 2009 and the opportunity to meet, share and learn from other talented and motivated artists from around the country.
"I hope to be inspired by the great talent that will surround me during youngARTS week," said Wright, a clarinet performance major from West Des Moines.
"Drake provided me with a great facility and the equipment to record my audition tape," he added. "The faculty and music program at Drake have always been very cooperative and supportive in regard to my music competitions."
During the program, Wright will participate in live auditions, interviews, master classes, performances and a series of enrichment and interdisciplinary activities.
He also will receive a final cash award from $1,000 to $10,000. The award is based on a standard of excellence for each participant's age group and discipline.
"Micah is one of the most talented clarinet students to come to Drake during my tenure," said Clarence Padilla, Drake professor of clarinet, who has been at the University for 15 years.
"The Drake music department's performing opportunities have allowed Micah to experience maximum growth, both as an artist and as a performer," he added. "I believe he is clearly on the path towards establishing an accomplished and fruitful career in music."
Wright, who has received numerous national and international awards, was home schooled in West Des Moines and began his college career at age 16. He is involved with the Drake Symphony Orchestra, Wind Symphony and performed with the University's Jazz Ensemble I in his first year at Drake.
In addition to the clarinet, Wright plays piano, saxophone and is an active composer. He will appear as the featured soloist on clarinet with the Drake Symphony Orchestra for a second time in February 2009, a rare opportunity for musicians.
He has received numerous honors and awards, including:
Principal clarinet, 2004 Iowa All-State Orchestra

Winner, 2006 Meyer Chamber Orchestra Concerto Competition

Winner, 2006 Masterworks Festival High School Concerto Competition

Winner, 2006-2007 Drake University Soloist's Competition

National Finalist, 2005-2006 Music Teachers National Association (MTNA) Senior Woodwind Competition

National Finalist/2nd place, 2006-2007 MTNA Senior Woodwind Competition

National Finalist/3rd place, 2007-2008 MTNA Senior Woodwind Competition

International Finalist, 2008 International Clarinet Association High School Solo Competition

Winner, 2008-2009 Drake University Soloist's Competition
DRAKE LAW STUDENT WHO SURVIVED 9/11 TALKS TO MIDDLE SCHOOL STUDENTS ABOUT COURAGE
Drake University law student Darren Harkins of Waukee, Iowa,
recently spoke to ninth-grade students at Johnston Middle School about courage.
Harkins, a native of New York and former New York City firefighter,
was the only survivor from Ladder Co. 2 on Sept. 11, 2001.
In his talk, Harkins told students about the terrorist
attacks and the aftermath at ground zero and encouraged them to serve their
communities.
Read more in the Des Moines Register's article, "9/11
survivor inspires with talk about courage."