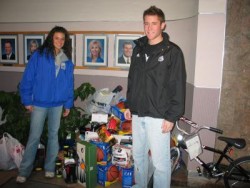 Emily Madden and Zach Bales-Henry showcase items donated for Toys for Tots.
STUDENT-ATHLETES CONTRIBUTE TO TOYS FOR TOTS CAMPAIGN
In the spirit of the holidays the Drake Student-Athlete Advisory Committee (SAAC) recently completed a toy drive as part of the Toys for Tots campaign in the Des Moines area.
The SAAC asked each Drake student-athlete to donate $1 toward this worthwhile cause with toys being purchased from the monies raised.
When all the money had been collected, SAAC challenged the Bulldog athletic staff to match the funds. In all, the group raised nearly $400.
The students purchased sports-related items, including 11 footballs, 12 basketballs, three tennis rackets, nine tennis balls, one softball glove with ball, one baseball glove with ball, seven volleyballs, six soccer balls, and one youth-size bicycle, that junior volleyball player Emily Madden and senior track runner Zach Bales-Henry delivered to the KCCI TV-8 studios before Christmas. Madden and Bales-Henry also dropped off toy donations from the community, which had been collected at Drake basketball games.
"It was fun and exciting dropping off all the toys and to see how much we actually were able to help out with the Toys for Tots program," Madden said.
"It was fun giving back knowing the impact of our efforts will allow kids who might not normally get gifts to have the experience of having something this holiday season," added Bales-Henry.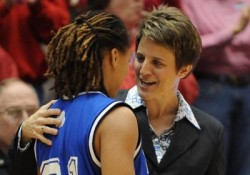 Amy Stephens confers with one of her players.
DRAKE'S AMY STEPHENS HONORED BY ROCKY MOUNTAIN ATHLETIC CONFERENCE
Drake women's basketball head coach Amy Stephens recently was named the Rocky Mountain Athletic Conference All-Time Top Coach to celebrate the RMAC's 100th anniversary. Stephens was the head coach at Division II Nebraska-Kearney from 1994-2002.
The top 12 players and best head coach in RMAC women's basketball history were selected by representatives from the conference's schools that participate in the sport of women's basketball. The RMAC is the fourth oldest conference in the country, and the most historic in the western U.S.
A four-time Rocky Mountain Athletic Conference Coach of the Year, Stephens led Nebraska-Kearney to five RMAC titles while the team averaged nearly 25 victories per season. UNK earned seven straight trips to the NCAA Tournament and also set an NCAA Division II record with an 87-game home-court winning streak that lasted from January of 1995 through November of 2001.
Stephens was the Women's Basketball Coaches Association (WBCA) District 7 Coach of the Year and a finalist for national coach-of-the-year honors in 2000.
As part of the Centennial Celebration, all-time teams are being selected in 19 RMAC sports. The RMAC's Centennial Celebration will take place on July 11, at the Cheyenne Mountain Resort in Colorado Springs. More information to come in the next few months. A new all-time team will be recognized each month leading up to the celebration.
FOUR BULLDOGS NAMED TO 2008 NSCAA/ADIDAS ALL-MIDWEST REGION TEAM
A school-record four Drake men's soccer players were named to the NSCAA/Adidas All-Midwest Region Team, highlighted by first-team selection junior forward Garrett Webb (Prairie Village, Kan.).
Junior forward Kevin Shrout (Lee's Summit, Mo.) was a second-team selection and making the third team were junior defender Julien Edwards (Ottawa, Ontario) and junior midfielder Luke Gorczyca (Overland Park, Kan.).
The group was instrumental in leading the Bulldogs to their first appearance in the NCAA Tournament and a school-record 13 wins this season.
Webb played in 19 matches this season, leading the Bulldogs with 22 points, eight goals, six assists and 42 shots. A first-team All-Missouri Valley Conference selection, he received MVC Player of the Week, Soccer America Team of the Week and College Soccer News Team of the Week honors after collecting one assist in a 3-1 win at Wisconsin and scoring a hat trick in a 4-1 win at MVC opponent Evansville. Webb has 47 career points and 18 career goals, one shy of breaking into Drake's all-time top 10 in each category. He is tied for fifth on the all-time list with 16 career assists.
Edwards was part of a defense that recorded six shutouts in the first six games of the season and held opponents to 9.6 shots per game. He played in 19 games this season, receiving MVC Defensive Player of the Week honors twice this fall and has five points on two goals and one assist.
Shrout, a first-team all-MVC selection, collected 10 points on four goals and two assists. He was named to the Drake Classic All-Tournament team.
Gorczyca, a second-team all-MVC selection has eight points on three goals and two assists this fall. He was named MVC of the Drake Classic and named to the Missouri State all-tournament team.