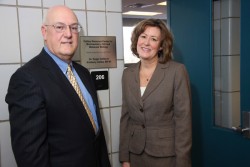 Roger and Kimberly Ceilley
ALUMNA AND DERMATOLOGIST PROVIDE GIFT TO ENHANCE SCIENCE EDUCATION
"We are thrilled!" said Charisse Buising, associate professor of biology and director of BCMB at Drake. "This is a significant change for our program. We have a tight-knit community, and now we actually have a home."
The funding supported the renovation of a space in Harvey Ingham Hall for the BCMB program, which is 10 years old and has grown from its first graduating class of 12 students to 165 students.
"This gift really reflects Roger's commitment to higher education and the sciences, Kim's affection for Drake, and their commitment to philanthropy," Buising said.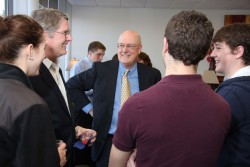 Roger Ceilley (center) visits with BCMB students and Drake Board of Trustees Chair Jim Hubbell (left).
Students gain quality resources, communal space
The Ceilley Resource Center for Biochemistry, Cell and Molecular Biology will be used for undergraduate research and interactive, community-based learning. In addition, the donation helped transform and provide equipment for a lab across the hallway from the resource center.
The center offers students a place to conduct research and lab work and make presentations. Students also have access to books, computers and specialized computer modeling programs for making and analyzing chemical and protein structures, Buising said.
Drake honored the Ceilleys, who live in West Des Moines, at a dedication and ribbon-cutting ceremony last month.
"We cannot thank you enough for this resource center you have bestowed on us," said Betsy Litman, a senior BCMB major of Apple Valley, Minn., who spoke at the ceremony on behalf of students. "We are forever in your debt, but we will make you proud."
The Ceilley family: loyal Drake friends and alumni
Roger, a Cedar Falls native, is a private practice dermatologist and dermatologic surgeon. He also is assistant clinical professor of dermatology at the University of Iowa Department of Dermatology and actively involved in a number of dermatologic organizations including The American Society for Dermatologic Surgery.
He is the author or co-author of more than 100 scientific publications, books and chapters. He also is certified in Mohs micrographic skin cancer surgery, dermatology, dermatopathology and cutaneous oncology.
He received a bachelor's degree from the University of Northern Iowa and his Doctor of Medicine degree from the University of Iowa, where he completed his dermatology residency.
Kimberly graduated from Drake in 1984 with a bachelor's degree from the College of Business and Public Administration. She is a licensed CPA and is a business consultant.
Their daughter, Elizabeth Ceilley, graduated summa cum laude from Drake in 1992 and practices radiation oncology in Wheat Ridge, Colo.
The Ceilley's nephew, Sean Slaven, is a junior BCMB major at Drake from Mason City, Iowa.
REMEMBERING MISSY LANGE…
Melisse "Missy" Lange, AS'98, was an outstanding member of the Drake Women's Basketball program who always embraced opportunities. As many of you know, Lange died in February, 2007, and a group of her teammates, family and friends want to keep her spirit alive on Drake's campus by placing a bench in her honor near the Drake Knapp Center.
To help raise funds to purchase and install the bench, you may purchase for $35 a 16″ x 20″ reproduction of a charcoal sketch of a bulldog that Lange created. Your contribution, which covers the poster, shipping and handling, will help bring this wonderful memorial to campus.
To place an order, send an e-mail to
john.brown@drake.edu
to receive an order form. Orders are due by Feb. 1, when the posters will be distributed.
DRAKE'S SPRING INTERNSHIP AND CAREER FAIR SET FOR FEB. 5
Looking for high quality interns and employees? The office of Professional and Career Development Services is hosting Drake's Spring Internship and Career Fair from 3-6 p.m. on Feb. 5. Registration is available online on Career bluePrint. If you already have an account with Career bluePrint, login and register for the fair. To set up an account, follow these steps to gain access to Career bluePrint:
Access/Register Career bluePrint
1. Go to Career bluePrint https://drake-csm.symplicity.com/employers
2. Click the "Register" tab
3. Complete the registration form and select "Career Fair" under Services Requested
4. Click Submit. You will receive a welcome e-mail with your username and password.
To register for the Spring Internship and Career Fair
1. Login to Career bluePrint with your username and password
3. Register for the Spring Internship & Career Fair 2009 under the Quick Links
Questions? Contact: Professional and Career Development Services, 515-271-3721.
Other contacts for the colleges and schools:
DRAKE LAW STUDENT WHO SURVIVED 9/11 TALKS TO MIDDLE SCHOOL STUDENTS ABOUT COURAGE
Drake University law student Darren Harkins of Waukee, Iowa, recently spoke to ninth-grade students at Johnston Middle School about courage.
Harkins, a native of New York and former New York City firefighter, was the only survivor from Ladder Co. 2 on Sept. 11, 2001.
In his talk, Harkins told students about the terrorist attacks and the aftermath at ground zero and encouraged them to serve their communities.
JOIN ALUMNI FOR THE RELAYS HALF MARATHON
Nearly 35 Drake alumni plan to run as a group in the 41st Drake Relays On-the-Roads half marathon at 8 a.m. on Saturday, April 25. Additional alumni and students are invited to join the group.
For more information or to register for the race, visit the race Web site or contact Doug Schaefer, AS'99, at douglasschaefer@hotmail.com.
Alumni who have indicated they plan to participate are listed below:

Brian Armogan
Jeremy Barewin
Matt Batt
Ryan Boyd
Chris Cingrani
Michael Collins
Steve Custis
Jim Davis
Rob Fornoff
Tom Franklin
Jeff Gabrielson
Eric Haugen
Mark Kilian
Ward Lenz
John Marshall
Brian McKibban
Tom McNab
Andrew Mosier
John Ordorzynski
Michael Parish
Brian Petroff
Andrew Radel
Guy Rimbey
Jeff Russell
Matt Salzwedel
Doug Schaefer
Tyler Schwiesow
Todd Sechser
Brian Swanson
Hansen Wendlandt
Chad Westberg
Eldon Whetstone
Michael Williams
Chad Zenner