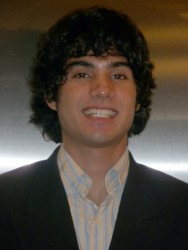 Micah Wright
CONTACT: Tory Olson, 515-271-1834, tory.olson@drake.edu
Micah Wright, 18, a senior at Drake University, is one of 140 young artists selected nationally to participate in the National Foundation for Advancement in the Arts youngARTS program.
Wright was one of 6,000 young artists who applied for the program and placed in the top 2 percent. As a finalist, he will receive complimentary travel to Miami in early January 2009 and the opportunity to meet, share and learn from other talented and motivated artists from around the country.
"I hope to be inspired by the great talent that will surround me during youngARTS week," said Wright, a clarinet performance major from West Des Moines.
"Drake provided me with a great facility and the equipment to record my audition tape," he added. "The faculty and music program at Drake have always been very cooperative and supportive in regard to my music competitions."
During the program, Wright will participate in live auditions, interviews, master classes, performances, a series of enrichment and interdisciplinary activities and he will receive a final cash award from $1,000 to $10,000. The award is based on a standard of excellence for each participant's age group and discipline.
"Micah is one of the most talented clarinet students to come to Drake during my tenure," said Clarence Padilla, Drake professor of clarinet, who has been at the University for 15 years.
"The Drake music department's performing opportunities have allowed Micah to experience maximum growth, both as an artist and as a performer," he added. "I believe he is clearly on the path towards establishing an accomplished and fruitful career in music."
Wright, who has received numerous national and international awards, was home schooled in West Des Moines and began his college career at age 16. He is involved with the Drake Symphony Orchestra, Wind Symphony and performed with the University's Jazz Ensemble I in his first year at Drake.
In addition to the clarinet, Wright plays piano, saxophone and is an active composer. He will appear as the featured soloist on clarinet with the Drake Symphony Orchestra for a second time in February 2009, a rare opportunity for musicians.
His numerous honors and awards, include:

Principal clarinet, 2004 Iowa All-State Orchestra
Winner, 2006 Meyer Chamber Orchestra Concerto Competition
Winner, 2006 Masterworks Festival High School Concerto Competition
Winner, 2006-2007 Drake University Soloist's Competition
National Finalist, 2005-2006 Music Teachers National Association (MTNA) Senior Woodwind Competition
National Finalist/2nd place, 2006-2007 MTNA Senior Woodwind Competition
National Finalist/3rd place, 2007-2008 MTNA Senior Woodwind Competition
International Finalist, 2008 International Clarinet Association High School Solo Competition
Winner, 2008-2009 Drake University Soloist's Competition
For more than 25 years, the National Foundation for the Advancement of Arts has nurtured and supported young individuals through programs and scholarship opportunities. Last year, the association awarded more than $3 million in scholarships to aspiring artists. The youngARTS program provides support, education and recognition to high school senior-aged artists at a pivotal moment in their educational and professional careers. Learn more about the foundation online.