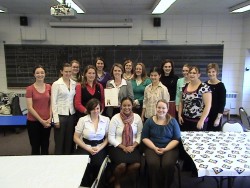 From L to R: Front: Laura Melone, Mari Adams, Christina Knox; Middle: Katie Owen, Jessie Nay, Tamra Novinska, Amy Truax, Suzie Reiman, Jessica Loos, Kate Dahl; Back: Katy Ryan, Cait Hicok, Stacie Bendixen, Amanda Nunn, Molly Langston, Miranda Bane.
MEDIA CONTACT: Tory Olson, 515-271-1834, tory.olson@drake.edu
Drake's music fraternity for women, Sigma Alpha Iota, recently received the Katherine Becker National Collegiate Chapter Achievement Award.
The award is given annually to a single chapter whose officers and members have demonstrated a strong commitment to music on the local and national level.
Of a possible nomination pool of 212 chapters across the country, the Sigma Alpha Iota chapter won for its work supporting the music program at Drake and promoting music throughout the Des Moines community.
The group organizes concerts in the community and music workshops on Drake's campus for elementary students. The Drake students also have helped raise money for new instruments in the Des Moines Public schools.
The leaders of Sigma Alpha Iota learned of the award and the amazing story surrounding their nomination in mid-November.
The chapter's province officer, Amy Truax, wrote the nomination letter in her Parkersburg, Iowa, home on May 25, shortly before an early June deadline. She left it on her kitchen table, but later that day, an F5 tornado tore through the town and badly damaged her house.
"The house wasn't flattened," said Stacie Bendixen, editor and communications officer of Sigma Alpha Iota, "but a lot of things got blown away or destroyed." Miraculously, the nominating letter remained on the kitchen table — exactly where Truax had left it. She asked a friend to mail it for her in the aftermath of the tornado.
Recently, the Drake chapter contributed to the University's music program by purchasing atomic clocks for the Harmon Fine Arts Center. The chapter contributes to a collective fund for supporting Drake music students' ambitions to attend workshops and master classes.
"We help pay for travel expenses and opportunities they might not be able to afford otherwise," Bendixen said.
A story about the nomination and award recently appeared in The Des Moines Register. Read the story online.
The chapter also works with Des Moines students in hopes to get them interested in music. "We do a day for elementary school students where they come to Drake, and we teach them about rhythm, song and dance, and they have a chance to perform for their parents."