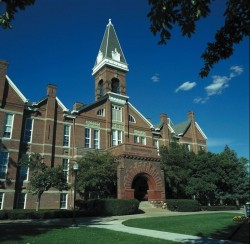 MEDIA CONTACT: Lisa Lacher, 515-271-3119,
lisa.lacher@drake.eduIn
response to the challenges faced by students and their parents in the current recession, Drake University is limiting its tuition increase for undergraduate students to 2.99 percent for the 2009-10 academic year — the lowest percentage increase in a decade.
In addition, Drake is committing a minimum of $44 million in institutional financial aid (scholarships and grants, not loans) for next year to assist Drake students in paying for their education.
Approximately 98 percent of Drake students receive financial assistance from the University and 57 percent of Drake students receive grants based on financial need. Drake students also receive tens of millions of dollars in scholarships based on academic merit.
While Drake's tuition for 2008-09 is $24,430, the average financial aid package totals approximately $18,000. The average package includes merit aid, loans, state and federal aid and work study.
"Drake is maintaining its strong tradition of cost containment and generous financial aid at a time when more and more families are affected by the economic downturn," said James Hubbell, chair of the Drake Board of Trustees.
Drake President David Maxwell said the University strives to keep the cost of a Drake education as low as possible while still keeping the promise of providing an exceptional learning environment.
"Drake's strong academic reputation at its comparatively low price makes the University a great value in today's higher education marketplace," Maxwell added. "With this modest tuition increase, Drake demonstrates that an outstanding university is still affordable."
For the ninth consecutive year, Drake is listed in the "Great Schools, Great Prices" category for Midwest master's universities in the most recent annual college rankings published by U.S. News & World Report magazine. Drake also maintained its No. 2 position in the magazine's rankings for academic quality (peer assessment).
In addition, Kiplinger's Personal Finance has listed Drake as one of the top 50 private universities in the United States for its combination of educational quality and cost.
Among the top 12 Midwest private universities, Drake consistently ranks in the top group for academic quality while 10th in cost of tuition. A list of the peer group members is posted online.
While undergraduate tuition increases for private colleges and universities nationally averaged 6.3 percent in the last decade, Drake's increases have been significantly lower, averaging 4.4 percent. A table showing Drake's undergraduate tuition for the years 1999-2009 is posted online.
Drake's Board of Trustees also approved a 3.5 percent increase in room and a 4.5 percent increase in board for 2009-10.
As a result, next year's comprehensive fee for undergraduates, which includes tuition of $25,160 and room and board of $7,800 and mandatory fees of $462, will rise 3.18 percent from $32,392 to $33,422.