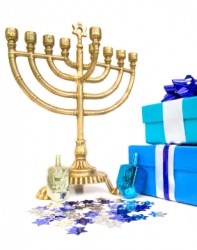 MEDIA CONTACT: Lisa Lacher, 515-271-3119,
lisa.lacher@drake.edu
Drake Hillel, the Jewish student organization, will host a
Pre-Hanukkah Party for the campus and Des Moines communities at 7:30
p.m. Thursday, Dec. 11, on the Pomerantz Stage in Olmsted Center, 2875
University Ave.
The party will feature a performance by the Java Jews Klezmer band,
as well as snacks — including potato pancakes and jelly doughnuts — catered by Maccabee's Deli.
"This is a great way for us to educate the community and campus
about the Jewish holiday of Hanukkah," said Jamie Schenker, president
of Drake Hillel. "While the event is completely free, we will be taking
voluntary donations to go toward a Jewish charity organization called
Ohel, which aides Jewish families in crisis situations through various
programs."
Hanukkah, the Jewish Festival of Lights, is an eight-day
commemoration of rededication of the Temple by the Maccabees after
their victory over the Syrians. The holiday begins this year at sundown
on Sunday, Dec. 21.
For more information about Drake Hillel, visit the organization's Web site or e-mail duhillel@drake.edu.