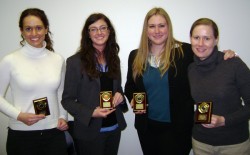 From left to right: Adrienne Sula, Meghann Sweeney, Emily Reninger and Magda Beme.
CONTACT: Tory Olson, 515-271-1834, tory.olson@drake.edu
One of Drake University Law School's mediation teams recently won second place competing against teams from six colleges and universities at the International Mediation Tournament in London, England.
The Drake team consists of third-year law students Emily Reninger of Waterloo, Iowa, and Meghann Sweeney of Des Moines; and second-year law student Adrienne Sula of Dubuque, Iowa.
"Going to London for this tournament was incredible," Reninger said. "It was very educational to be able to compete with teams from countries that view mediation in a different way than we do here in the U.S. We learned from the other law students there and they learned from us — a truly rewarding experience."
The tournament, which was held at the University of Westminster, included four rounds. Each team member took turns playing the mediator, client and advocate for each scenario.
Drake, which was defeated by a Liverpool John Moores University team, also competed against teams from the University of Westminster, Kingston University, The College of Law and the University of Edinburgh in Scotland.
In addition, the Drake students won awards for performance. Sula received third place for best mediator, Sweeney and Reninger took third place for best client/advocate team and Sweeney and Sula won first place for best client/advocate team.
"The students exceeded our expectations and came home the leading overall team in the tournament with four awards. I couldn't be more proud of them," said Richard Calkins, former dean of the Drake Law School.
Calkins co-coaches the team with 2007 law school graduate Magda Beme of Des Moines and Drake Professor of Law Andrea Charlow, the team's faculty adviser.
The team will compete again at the International Mediation Tournament in Chicago in March, 2009. Each year, Drake Law School sends several teams to compete in the Chicago tournament.