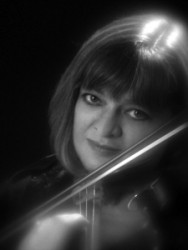 Felicia Moye
CONTACT: Tory Olson, 515-271-1834, tory.olson@drake.edu
Distinguished violinist Felicia Moye will present a guest recital at Drake University on Wednesday, Dec. 10. The concert, which is free and open to the public, will start at 8 p.m. on the Jordan Stage in Sheslow Auditorium, Old Main, 2507 University Ave.
Moye will be accompanied by Iowa State University Professor of Piano William David.
In addition, Moye will offer a masterclass at 11 a.m. to 1 p.m. on Thursday, Dec. 11, on the Jordan Stage in Sheslow Auditorium. For more information, contact:
The New York Times has praised Moye for her "rich, precisely balanced sound, a broad coloristic palette…and seemingly unflagging energy."
Moye is professor of violin at the University of Wisconsin-Madison. She also has served as professor of violin at The Glenn Gould School of The Royal Conservatory of Music in Canada, the University of Oklahoma, the New World School of the Arts in Miami and the pre-college division of The Juilliard School.
She was concertmaster of the Santa Fe Opera and the Honolulu Symphony, among others. In the fall of 2005, she performed as concertmaster of the National Arts Center Orchestra in Canada under the direction of Pinchas Zukerman.
Moye also has judged for several music competitions, including for the inaugural "Tchaikovsky's Homeland" International Violin Competition held in Vitensk, Russia. There, she represented the United States and Canada.
She has collaborated and published editions of works by Vieuxtemps and Alkan with Masters Music Publications. An enthusiastic instructor, Moye is a frequent guest artist and coach of the New World Symphony.
Moye has performed throughout Europe, Asia and North and South America as a soloist and chamber musician. While serving as first violinist with the Miami String Quartet, the group won top prizes in both the Evian and London International String Quartet Competitions and recorded under the Pyramid Records label.