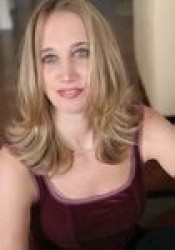 Deborah Siegel
Deborah Siegel, author of "Sisterhood Interrupted: From Radical Women to Grrls Gone Wild," will discuss contemporary American feminism on Thursday, Dec. 4, at Drake University.
The event, which is free and open to the public, will start at 7 p.m. in Bulldog Theater in Olmsted Center, 2875 University Ave.
Siegel also is co-editor of the literary anthology Only Child: Writers on the Singular Joys and Solitary Sorrows of Growing Up Solo. In addition, she is co-founder of The Scholar & Feminist Online, a Web journal.
Her writings on feminism, masculinity, contemporary families, sex and popular culture have appeared in a variety of venues, including The Washington Post, The Guardian, The Huffington Post, The American Prospect, More, Psychology Today, The Progressive and The Mothers Movement Online.
Siegel's appearance at Drake is sponsored by the University's Engaged Citizen Initiative, the Drake Center for the Humanities and the Drake Women's Studies Program.
For more information, contact Renee Cramer, assistant professor of law, politics and society, at 515-271-2870 or renee.cramer@drake.edu.