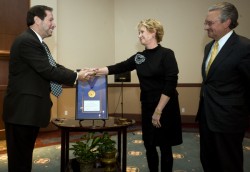 Drake President David Maxwell expresses his appreciation to Peggy Fisher and Larry Stelter.
Stelter Co. duo gives gift to enhance Drake's magazine journalism program
Drake University's nationally recognized magazine program will grow even stronger thanks to a $1.5 million gift to establish a faculty chair in magazine journalism from Drake alumna Peggy Fisher and her husband, Larry Stelter.
"They believe in making things happen at Drake," President David Maxwell said. "Peggy embodies the mission statement…she represents what we are here for."
The couple own The Stelter Co., an Urbandale-based national gift planning company that produces marketing materials for nonprofit organizations.
Before joining Stelter and his company, Fisher graduated from Drake, launched her own graphic design studio, taught at Des Moines Area Community College, served as a magazine designer and worked at Meredith Corp.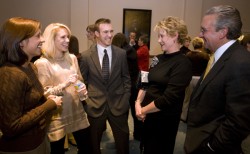 Students chat with Peggy Fisher and Larry Stelter at a reception honoring the couple.
It was while working at Meredith that Fisher mentored magazine design
students. She shared her expertise with the students and assigned them
projects that were later critiqued and edited by industry professionals.
"I had a very wonderful experience at Drake," said Fisher, a member of
the University's Board of Trustees. "We're happy to be able to do this."
Fisher said she saw an opportunity to enhance the award-winning
magazine program with a gift that she called "the perfect fit" for both
the donors' interests and those of Drake's School of Journalism and
Mass Communication.
The magazine program's student publications have garnered numerous
awards from the Associated Collegiate Press and the Society of
Professional Journalists, among others.

Drake officials honored Fisher and Stelter at a recent ceremony in Levitt Hall.
Even though Stelter is a graduate of the University of Iowa, he has
become an ardent Bulldog fan — supporting athletics as well as
programs and projects at Drake.
After expressing his happiness in making the gift during the ceremony, Stelter said in true blue fashion, "Go Bulldogs!"
Stelter and Fisher also helped fund renovation projects for the
University's Quad Creek in 2003 and the stadium in 2006, as well as
programs such as the Don Adams Leadership Institute, the Annual Fund
and the Paul Morrison Legacy Fellowship.
This newest gift will be called the Peggy Fisher and Larry Stelter
Chair of Magazine Journalism and the holder, who will serve a five-year
term, will be designated the Peggy Fisher and Larry Stelter Chair.
A search is under way for the first holder of the chair, who will join
the Drake faculty in the 2009-10 academic year. Each year the chair
will facilitate a distinguished lecture, which will reflect his or her
current research and/or pedagogy.
The chair, which will be recommended by the dean of SJMC and appointed
by the provost and president, will be awarded to a magazine journalism
faculty position.