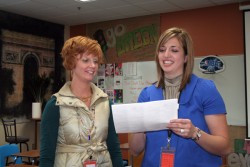 Kristine Milburn and Lindsay Wharton confer on lesson plans.
Rhodes Scholar emphasizes novelty in her teaching style
Valley High School English teacher Kristine Milburn rarely invites student teachers into her West Des Moines classroom. But she made an exception this fall for Lindsay Whorton, a former standout on the Drake women's basketball team who maintains a 4.0 GPA while majoring in secondary education and English.
Whorton, a senior from Independence, Mo., has proved to be exceptional, both in her student teaching and her recent selection as one of 32 Americans awarded a Rhodes Scholarship for graduate studies at Oxford University in England.
"She's awesome," Milburn said. "She's very organized, very reflective. If something doesn't work, she rethinks it and tries a new approach. . . . The students enjoy working with her. She's really one in a million."

Just a few days after the Rhodes Scholars were announced, Whorton
showed up for Milburn's Early American Literature class dressed as
Huckleberry Finn.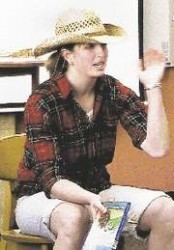 Lindsay Wharton portrays Huckleberry Finn for her students.
While sporting a wide-brimmed straw hat, plaid shirt and cutoff shorts,
she introduced the character's mannerisms and colloquialisms to the
students before they began reading the Mark Twain novel.
"I would say my teaching style is characterized by novelty," Whorton
said. "I like to do things that are unusual and unexpected."
Whorton said she decided to prepare for a career in education because
the field offers many opportunities to make a positive impact on
people's lives. She sees the Rhodes Scholarship in the same light.
"To me, this isn't about getting an award, it's about pursuing an
opportunity to make a difference in other people's lives," Whorton
said. "The Rhodes Scholarship allows me to do things that I wouldn't be
able to do otherwise. This opportunity opens doors that wouldn't be
available."