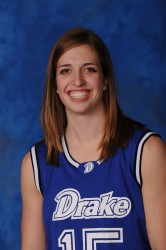 Lindsay Whorton
Drake University senior Lindsay Whorton, a former Drake standout basketball player with a perfect academic record, is one of 32 Americans selected as a Rhodes Scholar for 2009. She is Drake's first Rhodes Scholar in 82 years.
Whorton, who will graduate in December with majors in English and secondary education, was a guard who used up her eligibility last season. In her senior season, she was named first-team academic all-American, First-Team All-Missouri Valley Conference and one of Drake's team captains.
A native of Independence, Mo., Whorton receives a two-year scholarship to study at Oxford University in Oxford, England. She plans to study social policy and evidence-based social intervention at Oxford.
[ Read the entire article online… ]