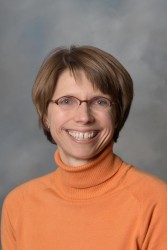 Moot Court Team Coach Laurie Dore
Law School National Moot Court Team advances to national finals
The Drake University Law School National Moot Court team recently finished second in the regional rounds of the National Moot Court Competition. Drake will advance to the finals for the 16th time since 1990.
The 59th annual regional competition was held last week at the University of Iowa Law School.
Drake, which finished second to the University of Minnesota team, will advance as one of 28 teams to compete at the national finals in New York City from Feb. 2-5, 2009. The teams will advance from regional competitions involving approximately 189 teams from 118 law schools.
The Drake team consists of third-year students Ashley Dose from Boone, Iowa; and Kevin Teets from Woodlawn, Tenn.; and second-year student Tyler Eason from Ankeny, Iowa. Teets was named best oralist in the final round of the competition.
"It's a great recognition of the tremendous time and effort the teams have put into preparing for the competition," said Laurie Dore, professor of law and coach. "I expect they will do as well when we go to New York City."


A second Drake Law School team, which tied for third place and was defeated in the semi-final round, consists of third-year students Erin Grundy from Snowmass Village, Colo.; and Miriam Van Heukelum from Park Forest, Ill.; and second-year student Zach Hindman from Sioux City, Iowa. Grundy was named best oralist overall through the quarter-final rounds.
The students argued a fictional case concerning the constitutionality of the federal Religious Land Use and Institutionalized Persons Act, as well as the interpretation of the federal Individuals with Disabilities Education Act.
The National Moot Court Competition, one of the oldest and most prestigious of its kind in the country, is jointly sponsored by the American College of Trial Lawyers and the Association of the Bar of the City of New York.