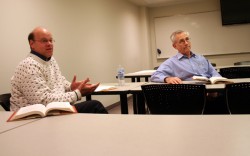 Jack Fellers, associate professor of information systems, and Steve Scullen, associate professor of management and international business, discuss lessons learned from their leadership book.
CBPA faculty and staff connect through book clubs to discuss leadership
Twenty-one faculty and staff members in the College of Business and Public Administration are teaming together in reading groups to explore leadership and new strategies for teaching students and demonstrating leadership in the workplace.
"It's a great environment where we can sit down and talk about a book and leadership," said Lisa Gardener, associate professor of statistics, who developed the initiative and leads the groups. "The book gives us a framework for our conversations. It helps us better live our mission and improve as a college."
Gardner dreamed up the idea for these groups as part of a follow-up to a CBPA retreat. She designed the idea for the groups based on the college's undergraduate learning outcome statement: "Each student can demonstrate the ability to lead and work with others effectively in a collaborative environment."
This statement helped Gardner look at ways in which faculty, staff and administrators can help students develop and sustain the necessary skills to survive and thrive in the professional world.
Gardner participates in all four reading groups — three groups for faculty and staff members and one group for administrators. All four groups read a different book based on leadership and meet three times per semester.
"It is nice to have a structured way to read something and to get faculty and staff together in a unique way," said Danette Kenne, assistant dean and director of graduate programs.
"It has been a lot of fun and something I look forward to. I look at our graduate programs differently and think of ways to manage people and how to include what I've learned in programs for students. It is a great experience."
Kenne is a member of the faculty and staff group reading "Leadership Gold: Lessons I've Learned from a Lifetime of Leading" by John Maxwell.
The other faculty and staff groups are reading "Emotionally Intelligent Leadership: A Guide for College Students" by Marcy L. Shankman and Scott J. Allen and the "The SPEED of Trust: The One Thing That Changes Everything" by Stephen M.R. Covey.
At each meeting, the groups discuss topics including powerful and valuable messages from the readings, important lessons, how to cultivate leadership abilities and new thoughts about cultivating leadership abilities in students.
The administrative group is reading "Student Success in College: Creating Conditions that Matter" by George D. Kuh et. al. The group explores ways to improve the college through their administrative roles — more clearly living the mission and defining pathways to student success.