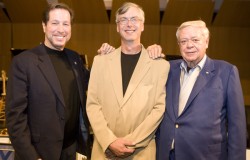 David Maxwell, Andrew Classen and Fred Turner at the inaugural Fred and Patty Turner Concert.
Concert celebrates Fred Turner's $1 million gift to Drake's jazz program
Drake recently celebrated a $1 million gift to the University's jazz program with a concert dedicated to Drake alumnus Fred Turner, retired senior chairman of McDonald's Corp., and his late wife, Patty, a Drake alumna.
Turner's contribution provides an endowment for a professorship in jazz studies. At the start of the Nov. 18 performance, Drake professor Andrew Classen was recognized as the inaugural holder of the Fred and Patty Turner Professorship in Jazz.
The free concert, which featured Jazz Ensemble I, was the first annual Fred and Patty Turner Concert at Drake. View the online gallery of photos from the concert and the reception that followed.
Drake President David Maxwell and College of Arts and Sciences Dean Joe Lenz expressed the University's appreciation for Turner's generous gift.
Andrew Bobka, a trombonist in Jazz Ensemble I, also thanked Turner for his support. He said Turner's gift "attests to the fact that all of our hard work and countless hours of rehearsals are appreciated and respected."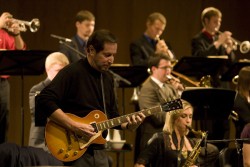 President Maxwell and Jazz I play a tribute to Fred Turner.
Concert featured Classen's new composition
Jazz I, under Classen's direction, performed a wide array of works,
including "A Count Ability," a new composition Classen wrote in the
style of Count Basie.
Drake President David Maxwell picked up his
electric guitar and joined the ensemble in playing an arrangement of
"Sweet Home Chicago" as a tribute to Turner, who lives in the Chicago
suburb of Deerfield.
"Wow! This is truly a special occasion and I'm pleased to be with all
of you," Turner said. He reflected on his experiences at Drake, where
he met his wife, Patty Shurtleff, who was a student in the School of
Fine Arts.
"She was Kappa Alpha Theta — I was a Sig Ep," he added. "And I wish my
Theta was here tonight as we celebrate the future of jazz at Drake.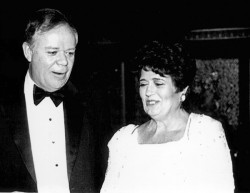 Fred Turner described his late wife, Patty, as "the love of my life."
"Patty loved music as much as I do. She sang and played the piano, guitar and ukulele. And our girls — Patty Sue, Teri and Paula — know she would be pleased by this gift because giving back is a value we shared."
Two of Turner's daughters, Patty Sue Rhea and Teri Turner, attended the concert along with many other family members and friends. Four members of Patty Turner's ukulele band — The Ukuladies — also traveled to Des Moines for the performance.
Fred Turner attended Drake from 1951 to 1953 and received an honorary Doctor of Law degree from the University in 1983. He also served on the University's Board of Trustees and was awarded the Distinguished Service Award, Drake's top honor for alumni.
Turner enjoyed a long and distinguished career with McDonald's Corp. He was one of the company's first employees and later served as operations vice president, executive vice president, president, chief administrative officer and chairman and CEO. He also was a member and CEO of McDonald's Board of Directors.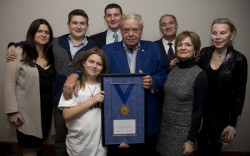 Fred Turner gathers with family members.
In his remarks at the start of the concert, Turner described his love
of jazz and drew some comparisons between the unique American art form
and the business world.
"Jazz," he said, "incorporates improv, innovation, creativity and
spontaneity — all based upon the discipline of basic musical harmony
— principles that are similar to those in business, including
McDonald's.
"McDonald's is known for its disciplined consistency, yet the company
has grown, adapted and expanded through innovation and creativity. And
like the best examples of jazz, we are always familiar yet always
different."
He concluded by saying, "I am delighted to have the opportunity to
support the future generations of musicians who will keep this art form
alive. Creating a jazz professorship at my alma mater is a perfect fit.
This is my own way of making sure the music plays on."


Professorship honors Classen's achievements, commitment to jazz
The new professorship recognizes the talents and achievements of
Classen, professor of trumpet and director of jazz studies, and his
commitment to promote and preserve jazz at Drake and within the music
industry. The gift will provide resources for Classen to build on the
University's jazz legacy and ensure students have opportunities to work
with the nation's finest teachers and musicians.
"As long as I have been at Drake, there has been an exceptional level
of support for music, and jazz in particular," Classen said. "With the
generous gift from Fred Turner, we now have the ability to take the
Drake jazz program to even greater heights."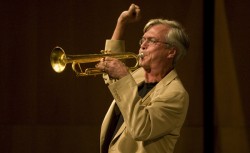 Andrew Classen plays the trumpet while directing the band.
Classen, who joined Drake in 1992, chairs the Music Department. He is
principal trumpet with the Cedar Rapids Symphony, has played with
numerous Broadway shows and is an active jazz composer.
He is a frequent clinician and guest artist for recitals, master
classes and seminars on the regional, national and international level.
He also has been a drill designer and instructor for many drum corps
and marching bands.
A native of St. Paul, Minn., Classen received a Bachelor of Arts in
Music Education from the University of Wisconsin Eau-Claire and a
Master of Music in trumpet performance from the University of
Tennessee.
Under Classen's leadership, Jazz I has received top ratings and
performed at the North Sea Jazz Festival in Holland and the Montreaux
Jazz Festival in Switzerland.
Jazz I to release new CD at Swingin' Holiday Spectacular
The ensemble will release its first Christmas CD at a Swingin' Holiday
Spectacular benefit concert at 8 p.m. Tuesday, Dec. 11, in the
Performing Arts Hall, Harmon Fine Arts Center, 25th Street and
Carpenter Avenue. The concert will feature guest artists Wicker Van
Orsdel and Fred Gazzo.
The benefit concert will help support the jazz ensemble's 2009 European
summer tour that will include performances in London, Paris and at the
North Sea Jazz Festival. Tickets, which are $25, are available through
the Drake Fine Arts Box Office at 515-271-3841.