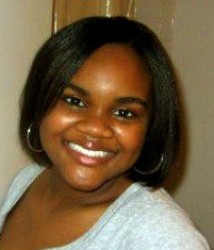 Danielle Edwards
Drake student receives national award for academic success and community involvement
Danielle Edwards, a senior at Drake University, is one of nearly 40 college students who recently received the Most Promising Minority Student Award from the American Advertising Federation.
Edwards is the first winner to represent Drake for the 12 years the University has competed in the program, which recognizes exceptional students for their academic achievement and community involvement.
"I am very excited to win this award and scholarship, because it was the first time I had ever applied for something this big," said Edwards, a creative advertising and graphic design major from Kansas City, Mo.
As part of her award, Edwards received a scholarship to attend an AAF conference in New York City from Feb. 3-5, 2009. There, she will be recognized for her award and will participate in professional development seminars and meet with recruiters from global advertising agencies.
She was nominated by Drake Assistant Professor of Advertising Dorothy Pisarski, who is a professional member of the AAF. Pisarski selected Edwards for the competition because of her academic achievement, dedication to the Drake and Iowa communities and essay expressing her desire to work in advertising.
"Danielle is a poised professional with a sparkle of enthusiasm. She has always had drive and ambition, and she supports it with a deep sense of responsibility and strong work ethic," said Pisarski, who advises students in Drake's AAF-affiliated National Student Advertising Competition.
"Whether she is working on a collaborative project for class or for one of her many extracurricular activities, Danielle leads by example," she added.
Edwards has served as the co-publicity chair on Drake's Coalition of Black Students, captain of the DSquad and is advertising manager for the Times-Delphic, Drake's student newspaper. She also works on marketing and advertising for Young Legendz Radio.
The AAF's Most Promising Minority Students Program acknowledges those minority students who are deemed exceptional by their college professors and advisers. The program commenced in 1997, in response to the advertising industry's concerns regarding identifying top minority talent for entry-level positions. Since the program's inception, AAF and its sponsoring partners have assisted in connecting the ad industry with hundreds of outstanding minority career candidates.
The program has been expanded to provide more students with the opportunity to meet recruiters from major ad agencies, media companies and client organizations and to participate in professional development workshops. The industry immersion component of the program gives the students exposure to the inner workings of major industry companies.
Read more about the program online at http://www.aaf.org/default.asp?id=214.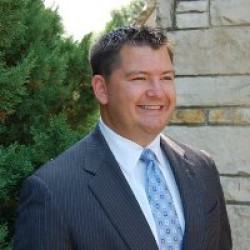 Erik Helland
Drake law student wins legislative seat
Erik Helland, third-year Drake University Law School student and lifelong resident of Iowa District 69, recently won a legislative seat in District 69 in the state house race with more than 60 percent of the votes cast. House District 69 covers the cities of Grimes, Johnston, Polk City, Saylorville, Alleman, Elkhart and part of Sheldahl in Polk County.
"This is my dream district, where I've lived and spent my whole life," said Helland, 28, who will fill the state representative seat after Walt Tomenga. "We have the fastest growing community in central Iowa and a diverse and robust agricultural industry, where my family has farmed for seven generations."
Helland will begin his term when the legislature convenes the new session on Jan. 12, 2009, and the legislature will meet from January through May. He said because of the legislature's schedule, he'll be able to juggle classes, job and his new position.
"You have to be very diligent with your time — from working at the bank to campaigning to school — you just have to be constantly on the move," said Helland, who works part-time for West Bank.
Helland said faculty and administrators at Drake have made it easier for him to get involved in public policy.
"Drake has been wonderfully flexible," he said. "When I was an undergrad, my professors really helped me tailor my degree to public policy."
When asked what his goals are for the legislature, Helland said he wants to focus on economic issues, create a better business climate for Iowa and make a more competitive tax structure.
"I hope to see a lot of different issues," he said. "I'm excited and this is a great opportunity that not many get at my age — the chance to make a difference."
Helland graduated from Drake in 2004 with a bachelor's degree in biochemistry, cell and molecular biology. He is a graduate of Ballard High School.
For more information, visit his Web site.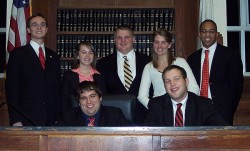 Front (left to right): Michael Nelson, Tyler Buller. Back: Nicholas Janning, Sarah Francis, Van Everett, Anna DeVries, Kyair Butts.
Drake Mock Trial team takes first place at Harvard Crimson Classic
Drake University's undergraduate mock trial Team 488 recently won first place at one of the nation's most competitive mock trial tournaments. The Drake team beat Ivy League institutions, Big Ten schools and colleges from both coasts to secure its win at the Harvard Crimson Classic tournament last weekend in Boston.
"The field at Harvard had some of the best teams in the country — to be successful there was a tremendous accomplishment that I hope we'll be able to build on for the rest of the season," said co-president Tyler Buller, a senior politics major from Urbandale.
The Drake team competed among 48 teams at the tournament including teams representing schools such as UC-Berkeley, University of Illinois, Princeton, Harvard, Yale and Wellesley.
The teams' argued a case involving a lawsuit alleging libel and defamation. Drew Walton, former candidate for governor in the fictional state of Midlands, was accused of murdering a debate opponent on live television on the fictional news network BNN. Students portray witnesses and act as attorneys on behalf of both the plaintiff and the defendant.
"While this win is a great reward for our hard work so far this year, it's also a reminder that we need to keep working as we finish out the invitational season and head into regionals," said Van Everett, a senior law, politics and society major from West Des Moines. "We're off to a great start and we'll be working hard to continue to improve."
Over the last month, Team 488 has placed third at Cornell's invitational and went undefeated at the Macalester College Invitational. Both of these tournaments, as well as the Harvard tournament, are invitationals, which comprise the first half of the collegiate mock trial season. The second half — the competition season — includes regionals, opening-round championship sites and the national championship tournament.
In addition, two Drake students won awards at the recent competition at Harvard:

• Kyair Butts, a sophomore news/internet and psychology major from Des Moines, received an award for his portrayal of journalist Reagan Thomas

• Van Everett received an honorable mention for his performance as an attorney
Members of Team 488 who competed at the Crimson Classic tournament were: seniors Tyler Buller, Van Everett and Michael Nelson; junior Nicholas Janning, a politics major from Carroll, Iowa; sophomore Kyair Butts; and first-year students Anna DeVries, a law, politics and society major from Maurice, Iowa, and Sarah Francis, a pre-pharmacy student from Carroll, Iowa.
Nelson, a senior politics and English major from Gowrie, Iowa, said the Drake undergraduate mock trial team has been student-coached for the last seven years, and its seasoned upperclassman officers have led the teams instead of an outside attorney coach. He also said that the Drake program is one of the only student-coached organizations to compete nationally.
"This year has given several of our sophomore members the opportunity to serve as leaders for our second team — Team 489," Nelson said. "Being able to lead each other effectively and develop our skills as a program is one of our strongest assets."
Drake Team 489 placed fourth at the Creighton Invitational and took a place in the top 10 at the Macalester Invitational last week. Everett said that it's impressive for 489 to beat nationally ranked teams as underclassmen and that the team's performance bodes well for the future of the program.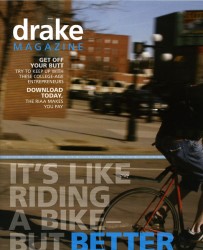 Drake student publication honored with Pacemaker Award
Drake Magazine has received the prestigious Pacemaker Award from the Associated Collegiate Press for general excellence in the feature-magazine category.
Drake Magazine is a biannual magazine produced entirely by students in Drake University's School of Journalism and Mass Communication. The online version of the magazine can be found at https://wwww.drakemagazine.com/.
"I am so proud of the accomplishments of our journalism students and faculty," said Kathleen Richardson, director of SJMC. "Their continuing success is the result of years of hard work, preparation and commitment to excellence."
Drake Magazine's 2008-09 editor, Justine Blanchard, a senior magazine major from Grimes, Iowa, accepted the Pacemaker Award on Nov. 1 at the College Media Convention in Kansas City, Mo.
THiNK, a joint senior capstone project for magazine and news-Internet majors produced in the spring semester, also was a top 10 finalist for the award.
Sarah Hall of Normal, Ill., a senior magazine major and 2008-09 editor of THiNK, joined Blanchard in Kansas City to accept the award. The trip was funded by Drake's E.T. Meredith Center for Magazine Studies.
Since 1927, the Associated Collegiate Press has awarded the National Pacemaker Awards for excellence in American student journalism for newspapers, online publications, yearbooks and magazines and broadcasts. Yearbook/magazine Pacemakers are judged based on writing, editing, design, content, concept, photography, art and graphics.
The awards are considered to be the highest national honors in student journalism. This year, a panel of judges from The New York Times Magazine selected the winners.
More about the Associated Collegiate Press and the Pacemaker Awards can be found at http://www.studentpress.org/acp/contests.html.