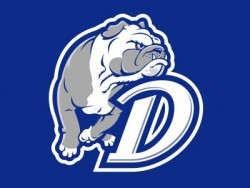 Two women soccer players named to MVC Scholar-Athlete team
Drake junior women's soccer players midfielder Melissa Lewis (Edina, Minn./Edina) and goalkeeper Jenny Schroeder (Albuquerque, N.M./Sandia) recently were named to the Missouri Valley Conference Scholar-Athlete team.
Read the entire article online.
Drake men's soccer honored by NSCAA for academic success
On the heels of the most successful season in school history (13-5-1), the Drake men's soccer team was honored for its work in the classroom as the Bulldogs were tabbed as a College Team Academic Award Winner for 2008 by the National Soccer Coaches Association of America.
Read more online.


Last second goal ends men's soccer season
Kyle Hayes' goal with 4.1 seconds left in the second overtime lifted Saint Louis University to a 1-0 victory past Drake in first round of the NCAA Men's Soccer Championship on Nov. 21.
Hayes goal came off a free kick after Drake goal keeper Michael Drozd (Hartwood Heights, Ill.) was given a yellow card with six seconds left when he collided with Charles Bryce of Saint Louis.
The loss spoiled a school record-breaking season by the Bulldogs who were making their first appearance in school history in the NCAA Tournament.
"One unlucky second doesn't undo three months of hard work," said Drake coach Sean Holmes whose team ended the season with a 13-5-1 record.
For more information, visit the Web site.
Football team closes out campaign on winning note with 32-0 romp
Two touchdowns helped Drake extend its string of consecutive winning seasons to five with a 32-0 Pioneer Football League recent victory past Valparaiso in the season finale for both teams.
Drake, which snapped a seven-game losing streak on the road, ended the year with a 6-5 record including a 4-4 fourth-place league mark.
Drake trio earns First Team All-Pioneer Football League honors, 11 Bulldogs cited
Drake senior linebacker Cole Douglas (Lawrence, Kan./Free State), senior kicker Logan Rees (West Des Moines, Iowa/Valley) and junior fullback Steve Platek (Arlington Heights, Ill./John Hersey) have earned first team All-Pioneer Football League honors.
Senior free safety Andy Green (Atlantic, Iowa), a two-time first-team all-league choice, headed four Drake players who were selected to the All-PFL second team.
Junior defensive end Dain Taylor (Highlands Ranch, Colo./Mountain Vista), junior offensive center Quinn McVey (Davenport,Iowa/Bettendorf) and junior punter Brandon Wubs (Hawthorn Woods, Ill./Lake Zurich) also were tabbed second-team All-PFL recipients.
Drake junior defensive tackle Andrew Asbell (Machesney Park, Ill./Harlem), junior offensive guard Eric Mora (Roselle, Ill./Lake Park), junior safety Skye Buckner-Petty (Florissant, Mo./McCluer North) and junior defensive back Tim Harvey (Evanston, Ill./Loyola Academy) collected honorable mention All-PFL honors.
Read the entire article online.
Drake volleyball finishes off season with 3-0 victory over Bradley
The Drake volleyball squad finished its 2008 campaign with a bang on Nov. 21 as the Bulldogs registered a 3-0 (25-15, 25-17, 25-21) Missouri Valley Conference victory over Bradley.
The triumph provided Drake with its 12th win of the season, its highest victory output since earning 13 victories in 1998. The Bulldogs finished their ledger at 12-20 overall, including 5-14 in the MVC. The Braves saw their record drop to 6-25, including 2-15 in league play. The five conference wins for Drake represent the most for a Bulldog unit since 2000.
Read more online.


Bys named to First Team MVC Volleyball Scholar-Athlete Team
Drake sophomore Angela Bys (Marion, Iowa/Marion) has been selected to the 13-member first team Missouri Valley Conference Volleyball Scholar-Athlete unit by a vote of the league's volleyball sports information directors, the league office announced on Nov. 25.
Read the entire article online.