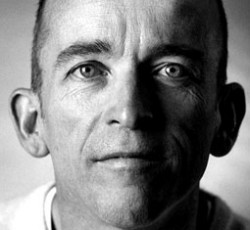 Mark Doty
Drake alumnus Mark Doty honored with National Book Award for poetry
Drake University Professor Emeritus of English Bruce Martin said he couldn't have predicted former student Mark Doty's recent honor — a National Book Award for Poetry — but he sure wasn't surprised.
"Mark is a good person and extremely deserving," said Martin, who taught Doty while he was a student at Drake. "Mark was a wonderful student — the type of person you would want to have in class and as a teacher. He is intelligent, curious, responsive, personable and articulate."
Doty, a 1978 Drake graduate, recently won the award for his book "Fire to Fire," a collection of works from his seven poetry books.
The National Book Awards recognize literary excellence in four categories — fiction, nonfiction, poetry and young people's literature — and are given by writers to writers.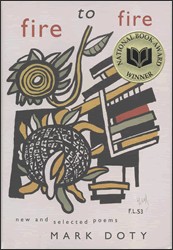 "Fire to Fire" by Mark Doty
Doty is the John and Rebecca Moores professor at the University of Houston and teaches in the English graduate program.
He has received many awards for his poetry and nonfiction prose books:

• National Book Critics Circle Award

• PEN/Martha Albrand Award for First Nonfiction

• Los Angeles Times Book Prize

• Whiting Writers Award

• Lila Wallace-Reader's Digest Writer's Award

• T.S. Eliot Prize in the United Kingdom
His poetry also has appeared in The Atlantic Monthly, The London Review of Books, Ploughshares, Poetry and The New Yorker.
In addition, Doty has received fellowships from the Dorothy and Lewis
B. Cullman Center for Scholars and Writers at the New York Public
Library, Guggenheim Foundation, the National Endowment for the Arts and
the Ingram Merrill Foundation.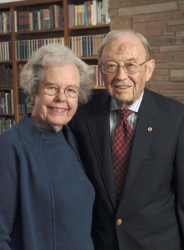 Marian and Don Easter
Three alumni honored at National Philanthropy Day
Drake alumni Don and Marian Easter and the late Maddie Levitt were recognized recently for their philanthropic impact on the Des Moines and Iowa communities.
The alumni won awards from the Central Iowa Chapter of the Association of Fundraising Professionals at its 23rd annual National Philanthropy Day.
Don, BN'40, retired CEO of Easter's Inc., and Marian, ED'39, won the 2008 Outstanding Individual Philanthropists Award.
Levitt, an honorary Drake alumna who died in November 2007, was honored
posthumously with the 2008 Spirit of Philanthropy Award, which was
accepted by her daughter, Suzie Glazer Burt.
The Easters have been strong supporters of Drake for decades and
have donated $869,000 to the University. Don, who served on Drake's
Board of Trustees for eight years, also has received the Distinguished
Service Award. Don and Marian also are recipients of the Drake Medal of
Honor.
The couple, who reside in Des Moines, began philanthropy after they
got married through tithing at church and have continued to give to
better Des Moines, Drake and Iowa for nearly 70 years. They devoted
earnings from the Easter Family Fund — part of the Community
Foundation of Greater Des Moines — to many organizations in Iowa.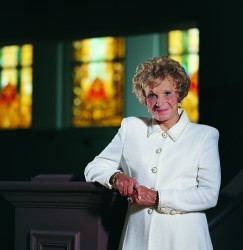 Maddie Levitt
Levitt was honored for the legacy she left throughout the Drake and
Des Moines communities. She was the national chair of the two major
fundraising campaigns for Drake and the first woman in America to chair
a successful campaign of $100 million or more for a coeducational
college or university.
She was a member of Drake's governing board and served on the
boards of United Way of Central Iowa and United Way of America; Boys
and Girls Clubs of Central Iowa, Mercy Hospital Foundation, the Des
Moines Art Center, the Des Moines Botanical Center, the Blank Park Zoo
and the National Network for Women in Philanthropy.
She also chaired fundraising events such as the Planned Parenthood
of Iowa Book Sale, a project she initiated in 1961 that has grown to be
that organization's major fundraiser.
Plan to attend men's basketball game watch party Dec. 9
Put on your Drake Blue and come out to Boston's Gourmet Pizza, 12401 University Ave. in Clive, Iowa, on Tuesday, Dec. 9.



Drake Alumni and friends will watch the men's basketball team take
on the Iowa State Cyclones in Ames. Tip-off is set for 8:05 p.m. There
will be door prizes given away at halftime.
For more information, please call 515-271-3378 or send and e-mail to john.brown@drake.edu.