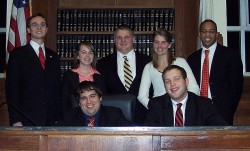 Front (left to right): Michael Nelson, Tyler Buller. Back: Nicholas Janning, Sarah Francis, Van Everett, Anna DeVries, Kyair Butts.
MEDIA CONTACT: Tory Olson, 515-271-1834, tory.olson@drake.edu
Drake University's undergraduate mock trial Team 488 recently won first place at one of the nation's most competitive mock trial tournaments. The Drake team beat Ivy League institutions, Big Ten schools and colleges from both coasts to secure its win at the Harvard Crimson Classic tournament last weekend in Boston.
"The field at Harvard had some of the best teams in the country — to be successful there was a tremendous accomplishment that I hope we'll be able to build on for the rest of the season," said co-president Tyler Buller, a senior politics major from Urbandale.
The Drake team competed among 48 teams at the tournament including teams representing schools such as UC-Berkeley, University of Illinois, Princeton, Harvard, Yale and Wellesley.
The teams' argued a case involving a lawsuit alleging libel and defamation. Drew Walton, former candidate for governor in the fictional state of Midlands, was accused of murdering a debate opponent on live television on the fictional news network BNN. Students portray witnesses and act as attorneys on behalf of both the plaintiff and the defendant.
"While this win is a great reward for our hard work so far this year, it's also a reminder that we need to keep working as we finish out the invitational season and head into regionals," said Van Everett, a senior law, politics and society major from West Des Moines. "We're off to a great start and we'll be working hard to continue to improve."
Over the last month, Team 488 has placed third at Cornell's invitational and went undefeated at the Macalester College Invitational. Both of these tournaments, as well as the Harvard tournament, are invitationals, which comprise the first half of the collegiate mock trial season. The second half — the competition season — includes regionals, opening-round championship sites and the national championship tournament.
In addition, two Drake students won awards at the recent competition at Harvard:

• Kyair Butts, a sophomore news/internet and psychology major from Des Moines, received an award for his portrayal of journalist Reagan Thomas

• Van Everett received an honorable mention for his performance as an attorney
Members of Team 488 who competed at the Crimson Classic tournament were: seniors Tyler Buller, Van Everett and Michael Nelson; junior Nicholas Janning, a politics major from Carroll, Iowa; sophomore Kyair Butts; and first-year students Anna DeVries, a law, politics and society major from Maurice, Iowa, and Sarah Francis, a pre-pharmacy student from Carroll, Iowa.
Nelson, a senior politics and English major from Gowrie, Iowa, said the Drake undergraduate mock trial team has been student-coached for the last seven years, and its seasoned upperclassman officers have led the teams instead of an outside attorney coach. He also said that the Drake program is one of the only student-coached organizations to compete nationally.
"This year has given several of our sophomore members the opportunity to serve as leaders for our second team — Team 489," Nelson said. "Being able to lead each other effectively and develop our skills as a program is one of our strongest assets."
Drake Team 489 placed fourth at the Creighton Invitational and took a place in the top 10 at the Macalester Invitational last week. Everett said that it's impressive for 489 to beat nationally ranked teams as underclassmen and that the team's performance bodes well for the future of the program.