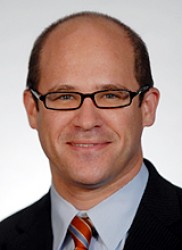 Orin S. Kerr
Computer crime law expert Orin S. Kerr will deliver Drake University Law School's Constitutional Law Distinguished Lecture at 12 p.m. Monday, Nov. 3. The lecture, which is free and open to the public, will take place in room 206 of Cartwright Hall, 2621 Carpenter Ave.
Kerr, professor of law at George Washington University Law School, will present "The New World of Digital Evidence Collection."
He teaches criminal law, criminal procedure and computer crime law at George Washington University and has taught at the University of Chicago Law School.
Earlier in his career, Kerr was an honors program trial attorney in the Computer Crime and Intellectual Property Section of the Criminal Division for the U.S. Department of Justice.
He also is a former law clerk for Judge Leonard I. Garth of the U.S. Court of Appeals for the Third Circuit and Justice Anthony M. Kennedy of the United States Supreme Court.
Before attending law school at Harvard University, Kerr earned undergraduate and graduate degrees in mechanical engineering from Princeton University and Stanford University, respectively.
His articles have appeared in many journals, including the Harvard Law Review, Stanford Law Review, Columbia Law Review, University of Chicago Law Review and Northwestern University Law Review.
In honor of the bicentennial of the U.S. Constitution, Drake University was chosen as one of four universities to receive a permanent endowment from Congress to encourage study of the American Constitution. Drake therefore created the Constitutional Law Center.
Read more about the center online.
For questions regarding the Constitutional Law Distinguished Lecture series, contact Drake Law School at 515-271-2988.