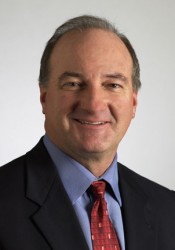 James Noyce
James Noyce, CEO of FBL Financial Group Inc. and a 1978 graduate of Drake University, will bring his expertise in financial services back to campus to present the Executive in Residence lecture Thursday, Nov. 6. The College of Business and Public Administration lecture is free and open to the public, and will start at 7 p.m. in Sheslow Auditorium in Old Main, 2507 University Ave.
"We're very excited to have Jim as our Fall 2008 Executive in Residence," said Charlie Edwards, dean of the College of Business and Public Administration, "He is an outstanding member of the Des Moines community and has had much success in his personal career. Our students can learn a lot from his insights."
The Executive in Residence series brings professionals to campus to share their career experiences with students and to deliver a public lecture.
In January 2007, Noyce was named chief executive officer of FBL Financial Group Inc. and its affiliated financial services companies including Farm Bureau Life Insurance Co. and Farm Bureau Mutual Insurance Co. He joined FBL in March 1985 as financial planning manager and held a number of other positions at FBL.
Noyce is a fellow of the Casualty Actuarial Society, a member of the American Academy of Actuaries, an associate of the Society of Actuaries, a certified public accountant and a fellow of the Life Management Institute.
In May 2007, he was named Iowa's Outstanding Certified Public Accountant in Business and Industry and two months later was inducted into the American Institute of Certified Public Accountants Hall of Fame.
Noyce also serves on the advisory committee of the Farm Bureau Bank, a wholly owned subsidiary of FB BanCorp and the board of directors of Berthel Fisher and Company Financial Services Inc., a privately owned independent broker headquartered in Cedar Rapids, Iowa.
He also is known for his involvement in civic organizations such as United Way of Central Iowa, Special Olympics Iowa, Grand View College, Mid-Iowa Council of Boy Scouts of America and the Greater Des Moines Partnership.
This year Noyce is the 2008 campaign chairman for United Way of Central Iowa and also serves on its board of directors. He and his wife, Shelley, reside in West Des Moines and have three grown children.