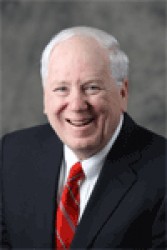 Kenneth M. Quinn
MEDIA CONTACT: Tory Olson, 515-271-1834, tory.olson@drake.edu
Kenneth M. Quinn, president of the World Food Prize Foundation, will conclude Drake University's fall "Let's DU Lunch" series on Wednesday, Nov. 5, with a talk on challenges for the nation's newly elected president.
The luncheon will start with networking at 11:30 a.m., followed by lunch and the program, "Feeding the World: Challenges for the New President in a Time of Crisis; The Role of the World Food Prize," at noon at inPlay, 615 Third St. "Let's DU Lunch," which is open to the public, is sponsored by the Drake University Central Iowa Alumni Chapter and the Greater Des Moines Partnership.
Quinn is a former U.S. ambassador to the Kingdom of Cambodia. He received the Secretary of State's Award for Heroism and Valor for his efforts to protect American citizens exposed to danger in Cambodia as well as the four life-saving rescues in which he participated in Vietnam.
In January 2000, Quinn assumed leadership of the World Food Prize Foundation after his retirement from the State Department. He is the only foreign service officer to have won the American Foreign Service Association Award for intellectual courage in challenging policy three times.
In addition, he received the Department of Defense Award for Distinguished Civilian Service, a Treasury Department Award for the arrest of an international counterfeiter and terrorist and the Presidential Distinguished Service Award, the highest recognition accorded career State Department officers.
The cost of the luncheon is $17. Reservations are recommended due to limited seating. For more information or to make a reservation, contact the Drake Office of Alumni and Parent Programs at 515-271-3848 or dottie.johnson@drake.edu.