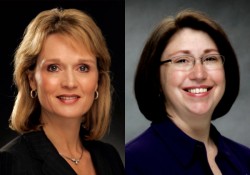 Laura Hollingsworth and Carolyn Washburn
CONTACT: Lisa Lacher, 515-271-3119, lisa.lacher@drake.edu
The Des Moines Register Publisher Laura Hollingsworth and Executive Editor Carolyn Washburn will continue Drake's fall "Let's DU Lunch" series on Wednesday, Oct. 1, with their speech "The Des Moines Register – Tradition and Transformation."
The luncheon will start with networking at 11:30 a.m., followed by lunch and the program at noon at inPlay, 615 Third St. "Let's DU Lunch" is sponsored by the Drake University Central Iowa Alumni Chapter and the Greater Des Moines Partnership.
Laura Hollingsworth was named president and publisher of The Des Moines Register in September 2007. She joined Gannett Co., which owns The Register, in 1989.
Hollingsworth worked at newspapers in Wisconsin, Washington, Illinois and Michigan prior to joining The Des Moines Register in 2002 as the vice president of advertising. In 2005 she was named general manager.
Carolyn Washburn joined The Des Moines Register as vice president and editor in September 2005. Washburn was named Gannett's Editor of the Year for 2007, and she was recognized as one of the top 10 editors in the company in 2002 and 2006.
The series will conclude with Kenneth Quinn, president of the World Food Prize Foundation, presenting on Wednesday, Nov. 5.
Cost is $17 per lunch. Reservations are recommended due to limited seating.
For more information or to make a reservation, contact the Drake Office of Alumni and Parent Programs at 515-271-3848 or dottie.johnson@drake.edu.