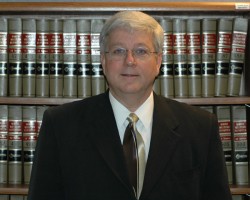 Jerry Foxhoven
Assistant Clinical Professor Jerry Foxhoven, LW'77, recently was appointed executive director of Drake Legal Clinic, one of the nation's top 25 legal clinics.
In his role, Foxhoven oversees the public service law firm staffed with law students under faculty supervision and helps law students write and lobby for legislation.
Foxhoven continues as director of the Joan and Lyle Middleton Center for Children's Rights, one of the nation's leading organizations advocating for foster and adoptive children.
"I have always loved kids," said Foxhoven, who was named director of the Middleton Center in 2006. "Foster kids have outstanding potential, and I want them to have the same opportunities for success that I had. By working with law students, I am able to make my advocacy and passion ripple through them in time and location."
Dedicated to Iowa and its people
A native of South Dakota, Foxhoven practiced criminal, civil and juvenile and family law in Des Moines for 23 years.
He serves on the oversight committee of the Iowa Juvenile Justice Initiative (Iowa's Court Improvement Project), chairs a number of child advocacy groups, including the Iowa Child Protection Council, the Iowa Citizen Review Panel and the Iowa Child Welfare Advisory Committee.
He also plays a key role in Adoption Saturday, an annual event that celebrates adoptions and promotes opportunities for adoption and foster parenting.
Foxhoven has served on the Iowa Child Advocacy Board, as director of CASA (Court Appointed Special Advocate) and Iowa Citizen Foster Care Review Board, child welfare advocacy programs.
He is recognized as a national authority on children's rights. He sits on the National Advisory Board of "Fostering Families Today" magazine and is on the Board of Directors of National CASA.
Foxhoven previously served as president and on the Board of Directors of the National Association of Foster Care Reviewers. He was an expert witness recently on behalf of the state of Michigan in a federal class action lawsuit brought against the state of Michigan concerning its child welfare system.
Honored for service to children
Foxhoven has received the "Angel in Adoption" award from the Congressional Coalition on Adoption Institute in Washington, D.C. and Prevent Child Abuse Iowa's "Champion for Children" award in 2007.
He will receive another award for his work with foster children on September 20, 2008, at the "Rusty Johnson's American Dreams Concert" at Hoyt Sherman Place in Des Moines.
"While I have received several awards for my work, my most notable achievements have been the recognition I have received from my individual students and the individual youth with whom I have worked that I have made a lifelong difference in their lives," Foxhoven said.