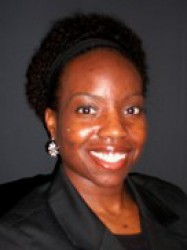 Theresa E. Hassler
Drake law student Theresa E. Hassler recently was appointed to the Section of Dispute Resolution of the American Bar Association's National Student Liaison Division. She began her 2008-09 term on Sept. 1.
"I am honored to serve the ABA in this very unique role and even more excited about representing Drake," said Hassler, a second-year law student and 2002 graduate of Southeast Missouri State University.
Hassler, a native of St. Louis, will serve as a liaison between the Law Student Division and the ABA. She will keep all law students informed about the practice of dispute resolution — negotiation, arbitration and mediation.
In return, the ABA will seek Hassler's guidance in brainstorming ways to increase student membership and involvement.
Her duties also will include lobbying for the ABA entity when the Law Student Division has resolutions or policy interests that are voted on in the ABA House of Delegates.
The Section of Dispute Resolution advocates on Capitol Hill to promote dispute resolution as an alternative to litigation, Hassler said.
She also will serve as a voice for students and will communicate with attorneys who practice dispute resolution law. In addition, she will participate in circuit meetings and local activities with the Student Division.