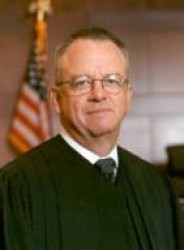 Larry J. Eisenhauer
Iowa Court of Appeals Judge Larry J. Eisenhauer, LW'74, recently received the Iowa Judges Association Award of Merit.
The award is given at the association's annual meeting to recognize a judge who has made extraordinary contributions to the Iowa Judges Association and who has been a role model to new judges.
"It is a well-deserved award," Fifth District Court Judge Joel Novak said. "Judge Eisenhauer is very hard working, extremely bright and has a great judicial temperament. He has worked tirelessly for the judges association for many years."
Eisenhauer, of Ankeny, is a member of the Polk County and Iowa State Bar Associations and the National Council of Juvenile and Family Court Judges.
In 2005, he served as an international judge for the United Nations Mission in Kosovo. He served as presiding judge on a three-judge panel in a case in which the defendants were charged with trafficking in human beings and rape, and as the investigating judge in a terrorism case. Eisenhauer volunteered to serve his six-month appointment.
Eisenhower was appointed to the Iowa Court of Appeals in 2001 after working on the district court bench in 1994 and serving as district court judge. He also served in the United States Army for two years before attending Drake Law School.
A native of Emporia, Kan., Eisenhower received his undergraduate degree from Emporia State University in 1968, practiced law privately and worked as a juvenile referee in Polk County from 1985 to 1993.