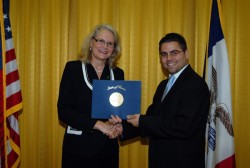 Iowa Department of Cultural Affairs Director Cyndi Pederson congratulates Emiliano Lerda at the Governor's Volunteer Award ceremony.
Drake Law School student Emiliano Lerda, 28, has been appointed to the Iowa Commission on Volunteer Service on the heels of winning the Governor's Volunteer Award.
Lerda, a third-year law student, will serve a on a three-year term on the commission to help enhance volunteer service throughout Iowa.
The commission's goal is to make a difference in Iowa communities by enhancing bi-partisan state-level commitment and support of service agencies, which rely on volunteers. Read more about the commission online.
Lerda's appointment was in part thanks to his work with the Iowa Department of Economic Development Community Development Division for which he won the Governor's Volunteer Award on June 30.
He helped the division in its efforts to create a green framework designed to assist Iowa communities in becoming more sustainable.
The award, established in 1982, is given to honor and recognize volunteers for the commitment, service and time that they contribute to Iowa's government agencies and nonprofit organizations.
Lerda never dreamed he'd be receiving an award from the Governor of Iowa when he first came to the state in October of 1999 from his hometown of Cordoba, Argentina.
"I came to Iowa because I wanted to see the bridges of Madison County," Lerda said. "Yes, that is how I learned about Iowa and the only reason I decided to come this way."
After seeing the bridges made famous in Robert James Waller's best-selling novel, Lerda attended the University of Northern Iowa. He took an intense three-month English course and then planned to return to Argentina.
His plans changed when he fell in love with the people in Iowa and decided to put down new roots in the rural state that reminded him so much of his home in Argentina.
Lerda then continued his education at UNI, where he served as student body vice president and president. He graduated from UNI with a bachelor's degree in communication studies then worked for two years before enrolling in Drake Law School. He plans to graduate in December.