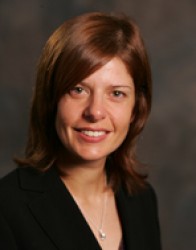 Stacey A. Tovino
With more than a decade of experience in the health law industry, Associate Professor of Law Stacey Tovino, is no amateur to the scene. She joined the Law School faculty on Aug. 1 and will begin teaching Introduction to Health Law this fall.
Tovino came to Drake from Hamline University School of Law in Saint Paul, Minn. There, she was assistant professor of law for two years and taught courses including HIPPA Privacy, Mental Health Law, Law and Bioethics, Patients' Rights, Elder Law and Comparative Health Law.
Previously, Tovino served as visiting assistant professor, research professor and adjunct professor at the University of Houston Law Center in Houston. She worked for three years from 2003-06 teaching courses including Torts, Health Law I and Health Privacy.
Tovino also served as associate attorney for six years at Vinson & Elkins LLP in the Health Industries Group in Houston. Her practice focused on operational, regulatory and transactional health law issues relating to patient confidentiality and privacy.
She worked on cases involving emergency care to abortion to Medicare reimbursement to patients' rights. Her major clients included academic medical centers, general and special hospitals, hospices, blood banks, AIDS clinics and non-profit health care organizations.
Tovino is a frequent speaker at colleges and universities including Stanford Law School, Amherst College, Arizona State University, University of Wisconsin-Madison and Boston University.
She also has written numerous publications and is working on titles to be published in 2009 including "Gendered Brains? Women's Neuroethics and the Law" and "Neuroscience and Health Law: An Integrated Approach?"
A native of the East coast, Tovino earned her doctorate with distinction from the University of Texas Medical Branch in Galveston, Texas. She received her juris doctorate magna cum laude from the University of Houston Law Center and her bachelor's degree in economics magna cum laude from Tulane University in New Orleans.