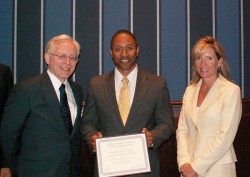 Russell Lovell, Jim O. Stuckey and Melissa Weresh pose for photos following the awards ceremony.
Drake University Law School officials recently accepted the E. Smythe Gambrell Professionalism Award from the American Bar Association at the ABA's annual meeting in New York City.
Associate Dean Russell Lovell and Professor of Law and Director of Legal Writing Melissa Weresh accepted the award at an Aug. 8 luncheon attended by approximately 350 attorneys.
Jim O. Stuckey, chair of the ABA Standing Committee on Professionalism, presented Lovell and Weresh with a $3,500 check for the Law School along with a certificate that said: "In recognition of outstanding achievement in the design and implementation of a model professionalism program."
"It was a great honor to be recognized nationally by the ABA for our outstanding program in professionalism and ethical and professional development," Lovell said.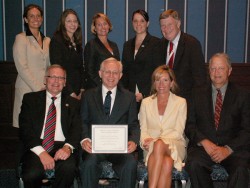 Gathered at the ceremony are (front row) Dan Moore, Russell Lovell, Melissa Weresh, Dwight Dinkla and (back row) Adrienne Sula, Kristin Conway, Jane Lorentzen, Amanda Brookhyser and Law School graduate David Brown.
Also attending the awards ceremony as representatives of the Drake Student Bar Association were: Amanda Brookhyser, a third-year student; Kristin Conway, a second-year student; and Adrienne Sula, a second-year student.
The Iowa State Bar Association sent three of its top leaders, all of whom are Drake Law School graduates, to the ceremony: President Dan Moore, LW'77, President Elect Jane Lorentzen, LW'91, and Executive Director Dwight Dinkla, LW'77.
In addition, David L. Brown, LW'75, the state ABA delegate from Iowa, attended the ceremony.
The E. Smythe Gambrell Professionalism Awards recognize projects that enhance professionalism among lawyers. Law Schools, bar
associations, law firms and not-for-profit law-related organizations are eligible for the awards. Drake was the only law school to receive one of the three awards presented this year.
The award is named for E. Smythe Gambrell, who served simultaneously as president of the ABA and the American Bar Foundation in 1955-56. Gambrell founded the Legal Aid Society in Atlanta, where he practiced law from 1922 until his death in 1986.
In announcing the annual award, the ABA praised the Law School for implementing a professionalism curriculum that spans the entire first year and includes:
A multi-faceted orientation program that introduces students to legal ethics and professionalism;
A concentration on ethical and professional considerations in the required legal writing course;
A Trial Practicum, which provides a week-long immersion in an actual jury trial;
Supreme Court Week, a celebration of the law school's relationship with the bench and bar
"The goal of Drake's program of instruction," the ABA concluded, "is to provide students with a focused, integrated, comprehensive curriculum of ethics and professionalism, which pervades the law school experience."