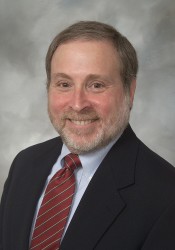 Dennis J. Goldford
MEDIA CONTACT: Tory Olson, 515-271-1834, tory.olson@drake.edu
Dennis J. Goldford, professor of politics at Drake University, will explore the basic constitutional elements of religious freedom in America when he gives the annual Stalnaker Lecture on Tuesday, Sept. 23.
The lecture, which is free and open to the public, is titled "One Nation Under Whose God? Law, Politics, and Religion in America." The event will start at 7 p.m. in Sheslow Auditorium in Old Main, 2507 University Ave. A reception will follow in Levitt Hall.
During his lecture, Goldford will address the religion clauses of the First Amendment, which state that "Congress shall make no law respecting an establishment of religion or prohibiting the free exercise thereof."
"These clauses are the site of an ongoing tension between the key American value of religious freedom and the key American fact of religious diversity," Goldford said. "As such, these clauses are themselves controversial, but in principle they exist not to exacerbate our religious differences, but to enable us to negotiate them."
Goldford teaches political theory and constitutional law. This fall, he also is serving as an adjunct professor in the Drake Law School, where he teaches a seminar on law and religion. He chaired Drake's Department of Politics and International Relations from 1994 to 2004 and was director of the Law, Politics and Society Program from 2004 to 2007.
He is the author of "The American Constitution and the Debate over Originalism," published in 2005 by Cambridge University Press. His current research projects include a book on the political and constitutional theory of religious freedom in the United States and a co-authored book on the Iowa caucuses.
Goldford regularly participates on scholarly panels at annual meetings of the American Political Science Association and the Midwest Political Science Association. He also provides political and election analysis for local, national and international print and broadcast news organizations.
He holds a bachelor's degree in political science from the University of Michigan, a master's degree in philosophy from Oxford University and a master of arts and doctoral degree in political science from the University of Chicago.
Goldford's lecture will be the 24th of the series at Drake honoring Luther W. Stalnaker, former professor of philosophy and dean of the College of the Liberal Arts from 1941-54. The lecture series was endowed by gifts from the Stalnaker family and emeriti faculty and receives continuing support from the College of Arts and Sciences.
For more information on the lecture, call 515-271-3939.