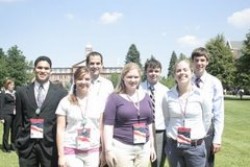 Some Drake students at the convention: Back row (L to R): Victor Cedeno; Andrew Lemens; Vitaliy Perekhov; Bryan Riha; Front row (L to R): Jamie Burch; Marilyn Boskey; Colleen Nell.
Drake students launch blog during Democratic National Convention internships
Drake journalism and politics students recently launched a blog, which has attracted international guests from nearly 25 countries, about their two-week internships at the Democratic National Convention in Denver Aug. 25-28.
"It's an incredible experience," said Meagan Savage, junior magazine journalism and English major from Parker, Colo.
Journalism students teamed with University of Missouri journalism students to work in a collaborative course offered by both schools, "Writing and Reporting from the Democratic National Convention."
The course was taught by Drake Associate Professor of Journalism Lee Jolliffe, who accompanied Drake students, and Sandy Davidson, associate professor of journalism at Missouri, and Lillie Fears, associate professor of journalism from Arkansas State.
The journalists were joined by Drake Associate Professor of Politics Rachel Paine Caufield and a group of politics students from Drake, Hastings College and the University of South Dakota.
The group caught the attention of public television shortly after arriving in Denver. The students and faculty were featured on Denver's local public TV station in "Snapshots from the DNC." View the story online.
Drake student Jordan Oster, who was a Barack Obama delegate at the convention, also attracted media attention and was interviewed by MTV News. The entire story is available online.
Oster, a senior politics and history major from Clive, Iowa, also blogged about his experiences in Denver. Access the blog online through the www.IowaPolitics.com Web site.
Washington Center internships offer hands-on experience
The students' internships were part of The Washington Center's Campaign 2008 program. This is the first time Drake has participated in the program. The Drake group joined approximately 350 students and 25 professors through the Washington Center for Internships and Programs.


Each day during the first week of the internship, students attended academic seminars, listened to distinguished speakers and participated in small group discussions led by assigned professors.
In the second week during the convention, they worked as interns in the field with a media outlet or the Democratic National Committee, the Host Committee, a state party organization or an interest group.
The Washington Center offers two-week study programs with internships at the Democratic and Republican National Conventions, the Inaugurations and in Washington, D.C.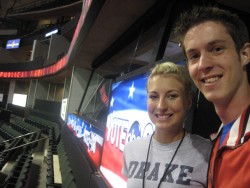 Tyler Boggess and Danielle Sauka at the Xcel Energy Center in St. Paul.
Journalism students work behind-the-scenes at Republican National Convention

By Emilee Richardson
This month, four Drake students felt the electrifying excitement of working at the Republican National Convention.
Danielle Sauka of St. Paul, Minn. and Tyler Boggess of Kearney, Mo., served as interns for ABC News. After helping ABC News during the 2008 Iowa Caucuses in January, they were asked to help with the convention in the Twin Cities as well.
"Drake always promotes the Iowa Caucuses to students as an event that can lead to more professional opportunities down the line," said Kathleen Richardson, director of the School of Journalism and Mass Communication. "This is a great example of that."
Kelsey Jones of Galesville, Wis., and Lynn McRoberts of Overland Park, Kan., also attended the convention. Jones volunteered with the Americans with Disabilities Act, and McRoberts served as a page in the Republican National Convention Page Program.
The four students launched a blog to share their experiences. View it online.
Convention provides real-world experience
By working with different organizations on a variety of projects, students gained valuable real-world experience for their careers and learned what it takes to put on the conventions.
Among their responsibilities, Sauka and Boggess helped coordinate live shots for ABC affiliates and set up the ABC News anchor booth.
"We set up the desk, chairs, pens, pencils, Diet Coke — pretty much anything they needed," said Sauka, a senior broadcast news major.
McRoberts worked on average 16-hour days attending panel discussions and distributing materials to delegates before all of the convention sessions. During the sessions, she worked with the McCain campaign to distribute signs to delegates and to rally the crowd through cheers and sign waves.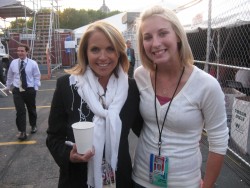 Danielle Sauka (right) with Katie Couric (left) at the convention.
Both Sauka and Boggess agreed that although they missed two weeks of
classes and admitted that some responsibilities weren't so glamorous,
but the overall experience resulted in many benefits.
Sauka met Katie Couric, who inspired her to pursue a broadcasting
career, and Boggess spoke with Sam Donaldson about his perspective on
Sen. John McCain and the election.
"Experiences like this are much more valuable than sitting in a
classroom," said Boggess, a junior radio/TV production major. "ABC
covered the conventions for just a few hours each day, but it took
weeks and weeks to put together. It was incredible to see the final
product."
Jones, a sophomore majoring in public relations and politics, helped
usher people with disabilities to their seats or to wheelchair
platforms.
She has considered political public relations as a career and said the
experience was a great networking tool, but more than anything, was
thankful to be a part of the excitement.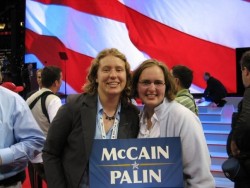 Lynn McRoberts (right) with McCain campaign intern Sarah Cutshall (left) display a sign used during the convention sessions.
Students reflect on memorable experiences
When the fast-paced convention concluded, the students were finally able to sit down and reflect on their experiences.
"The most memorable moment was after McCain spoke and all of the
balloons were dropping and confetti was flying," Jones said. "I
couldn't believe I was actually there experiencing it — watching it
live and not on TV. That's something I'll never forget."
Boggess agreed, despite sharing different views. "Even though I don't
agree with everything that was said, the climax of the week was
absolutely electric," he said. "It was a history-making moment."
For McRoberts, Gov. Sarah Palin's speech was the most exciting moment of the convention.
"As a young woman in the Republican party, it gives me great pride to
see Gov. Palin accepting the vice presidency," said McRoberts, a senior
politics major. "And I was on the floor helping rally the delegates.
What a night to remember!"