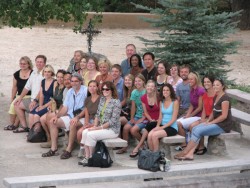 Bob Stensrud's class at the chapel at El Sanctuario de Chimayo.
Graduate counseling course immerses students in New Mexico's culture

By Emilee Richardson
Bob Stensrud, professor of education at Drake, believes that teaching diversity should involve more than sitting in a classroom.
That is why, for 13 years, students in his summer course Understanding Diverse Populations, have traveled to Albuquerque, N.M. There, they get to experience first-hand Pueblo, Hispanic and Spanish cultures. View a photo gallery online.

"Learning begins at the edge of our comfort zones," Stensrud said. "Teaching diversity involves immersing oneself in other cultures, so people begin to be curious about expanding their comfort with the people who will be their clients."
Twenty-three Drake graduate students participated in the course from Aug. 1-7. They visited sites such as an Indian cave dwelling, museums, state and national monuments and Indian Pueblo and Hispanic cultural centers. Students visited three Pueblo communities — the Jemez, the Santa Domingo and the Acoma.
At each location, students had the opportunity to watch ceremonial dances, explore the history and art of those cultures and discover how experiences and perceptions are shaped by culture.
Stensrud said the purposes of the non-traditional course are wide-ranging — from acquainting students with more diverse populations than what Iowa has to offer to learning how to interact with people of different backgrounds.
Marisa Mickunas, a graduate student pursuing a master's degree in rehabilitation counseling, said the trip was a great way to experience the nuances of different cultures.
"Des Moines is a very homogenous environment," she said. "Living here, we are exposed to just a few ways of thinking and behaving. Going to New Mexico helped broaden my lens. It opened my heart and spirit to other cultures — wonderful cultures that have managed to maintain their identity and rich tradition throughout time."
Kemal Delilovic, who plans to graduate in 2010 with a master's in rehabilitation counseling, said the experience has prepared him to help people who have different beliefs. He also gained a better understanding of other cultures' perspectives.
"The most important part of the experience for me is that I realized that even though everything was different than what I am accustomed to, I did not feel uncomfortable," said Delilovic, who came to Iowa as a Bosnian refugee. "This experience opened my mind and eyes toward anything that I am not familiar with or I do not know anything about."