Drake West Village's grand opening featured a ribbon-cutting ceremony.
Drake West Village, the $37 million mixed-use housing and retail complex that Drake University and Hubbell Realty Company developed at 31st Street and Carpenter Avenue, officially opened today with a ribbon-cutting celebration.
Hubbell Realty Company president and CEO Rick Tollakson announced at the ceremony that the first two tenants of the retail portion of Drake West Village will be Starbucks and locally-owned sports restaurant The Stadium Grill & Bar. Both will open this winter and will occupy approximately 60 percent of the 9,159 square feet of available retail space. CB Richard Ellis/Hubbell Commercial is seeking additional retail partners for the project that will appeal to both students and to residents of the surrounding neighborhoods.
The 226,000 square foot development provides apartment-style housing for 457 upperclassmen and graduate students. The residential space will be managed by American Campus Communities, while Hubbell Property Management will manage the retail space. Drake West Village was designed by FEH Associates Inc. with input from Drake students. The Weitz Company served as general contractor for the project.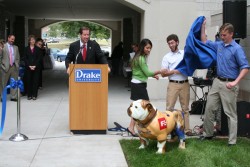 President Maxwell and Drake Student Senate leaders Tisleen Singh, Eric Gudmundson and Kevin Kule unveil a new construction-themed bulldog.
"Drake West Village is a wonderful example of the ways in which the
University can collaborate with community businesses to make good
things happen for our students," said Drake University President David
Maxwell. "The project gives upper-class, graduate and law students the
opportunity to be more connected to campus life while enjoying
apartment-style living."
Drake searched the United States to find the best company to
develop the mixed-use project. Hubbell Realty Company won the bid,
besting 21 firms from around the country, including national developers
specializing in privatized student housing.
"Building Drake West Village has been a collaborative effort
involving three organizations that have been an integral part of Des
Moines since its earliest days. Together with Drake, Weitz and many
others, we have been able to build three beautiful buildings that bring
to life some of the most cutting edge ideas in student housing to one
of the city's most established communities," said Rick Tollakson,
president and CEO of Hubbell Realty Company.
The three buildings in Drake West Village combined contain 72 tons of rebar — approximately the weight of two humpback whales. Read more fun facts about the construction project.
For more information about Drake West Village, visit the Web site.
For retail leasing information, visit www.cbrehc.com and search for
Drake.