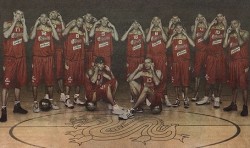 The Spanish men's basketball team drew criticism for the "slant-eyed" gestures team members made in this photo taken at the Olympics.
MEDIA CONTACTS: Lisa Lacher, 515-271-3119, lisa.lacher@drake.edu;

Cyndi Chen, 515-281-4223, Cyndi.Chen@iowa.gov
The Status of Iowans of Asian and Pacific Islander Heritage would like to invite the public to a dialogue surrounding cultural sensitivity in public discourse.
The forum at Drake University on Tuesday, Sept. 9, will feature news clips from recent broadcasts of the Olympics, a panel discussion, community questions and comments, and tools for handling inappropriate comments in the media.
The forum, which is free and open to the public, will start at 7 p.m. in the Performing Arts Hall of the Harmon Fine Arts Center, 25th Street and Carpenter Avenue.
The goal of the event is to provide an opportunity for the community to address issues with cultural sensitivity in reporting and learn about ways to effectively handle inappropriate racial comments in the media.
Panelists will include:

Drake Associate Professor of Psychology Judy Allen
Drake Associate Professor of American Studies Sandra Patton-Imani
Executive Director of Des Moines Human Rights Commission Rudy Simms
Des Moines Area Community College Professor of Sociocultural Anthropology Leland Searles
In addition to the forum, the "America Imagines Chinese: 19th Century Advertising Trade Cards and the American Imagination" exhibit at Anderson Gallery in the Harmon Fine Arts Center will be open to the public at 6 p.m. and again after the forum.
Hundreds of 19th century advertising trade cards featuring images of Chinese people or motifs will be on display. More information about the exhibit is available online.
For more information about the forum, call 515-281-4223. For additional information about the exhibit, call 515-271-1994.