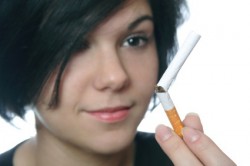 Drake offers smoking cessation programs for students, faculty and staff
Drake University students who started classes on Monday, Aug. 25, found a non-smoking campus and new programs to help smokers who want to quit.
"Smoking is the leading preventable cause of death and disability," said Denise Soltis, assistant professor and director of pharmacy experiential programs. "We hope to see members of our Drake community using these programs and taking steps to improve their overall health."
The Smoking Cessation Counseling program, which officially starts the fall 2008 semester, is open to students, faculty and staff who want to quit smoking. The program includes counseling sessions and referrals for medications as well as online and phone resources.



"Counseling will help individuals determine whether or not they are ready to quit, and then we can help them develop a plan of action for quitting," Soltis said.
Program counselors Denise Soltis and Jill Dimon, assistant professor and early experiential coordinator, will meet with clients on a weekly or monthly basis with later follow up.
"It depends on the client, but we will make follow-up phone calls or appointments to talk about issues such as how to handle slip-ups," Soltis said.
Those interested in the counseling program can set up appointments through Drake's Wellness Center.
Students gain pharmacy practice experience
The program also provides an opportunity for students in Drake's Professional Pharmacy Program to gain counseling experience.
Students will counsel individuals under faculty supervision and earn credit for introductory practice experience hours for the Pharmacy Skills and Applications course.
"This program helps students gain experience counseling," Soltis said. "They can get involved and work throughout the semester and then go out into the real world and apply those counseling and practice skills."
Employee health care benefits expanded
In addition, the University enhanced its employee pharmaceutical benefit plan to include coverage for smoking-cessation treatments and products.
"This benefit enhancement is designed to provide support for those medical plan participants who are ready to quit smoking," said Human Resources Director Venessa Macro. "This plan change is also consistent with our wellness programming goals and objectives."
In July, Drake's office of human resources began looking at ways to support employees who were ready to quit smoking. Thus, the Prescription Drug Coverage plan was revised to cover a lifetime maximum of $750 for smoking cessation products and over-the-counter treatments such as nicotine patches and gum.
To ensure coverage by the plan, employees need to get a doctor's prescription or note to get authorization for a pharmacist to fill the over-the-counter prescriptions.
Iowa's smoking ban, which prohibits smoking on all campus grounds including outdoor areas and parking lots, took effect July 1. A campus map, which outlines Drake's grounds, is posted online.Details about the Iowa Department of Public Health's Smokefree Air Act is available online.
Details about employee benefits are available by calling Marlene Heuertz at 271-1901 or Venessa Macro at 271-3962 or visiting the Web site.
For more information about Drake's smoking-cessation counseling programs, contact Denise Soltis at 515-271-3191 or denise.soltis@drake.edu.