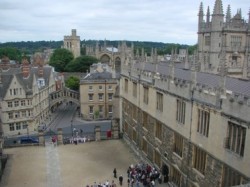 Oxford University is the world's oldest English-speaking university.
Two Drake profs confer with other scholars at Oxford
Sally Beisser, associate professor of education, and Mark Kende, the James Madison chair in constitutional law, both traveled to Oxford University to present papers and confer with scholars from around the world.
In July, Beisser participated in the 2008 Oxford Round Table, which included education professors from nine countries.
They explored "Balancing National and State Curricula: Trends and Choices." Selected papers from the conference will be published in Oxford's "The Forum on Public Policy: A Journal of the Oxford Round Table."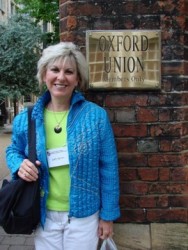 Sally Beisser
Beisser presented "Unintended Consequences of No Child Left Behind on Gifted Students in the United States." Her research paper focused on the impact of NCLB, especially the declining and stagnating achievement scores of bright students nationwide.
The study included suggestions for giving bright students differentiated levels of challenge and attention to help them to reach their potential in school.
For more details about her paper, visit the Web site.
"Sharing research with international colleagues all week was intellectually thrilling," Beisser said. "It was exciting to present in the Oxford Union Debate Hall, the venue where speakers such as Mother Theresa, the Dalai Lama, and Albert Einstein gave lectures."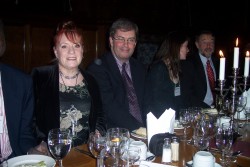 Mark Kende meets with scholars during the Global Security Conference at Oxford.
Prof. Kende visits Oxford for Global Security Conference
This past spring, Kende, director of Drake's Constitutional Law Center, spoke at Oxford University as part of a Global Security Conference. His presentation was titled "The U.S. Supreme Court and the War on Terror."
Kende contended the American news media and others have not been entirely accurate in asserting that the U.S. Supreme Court has issued several decisions protecting the basic human rights of Guantanamo detainees and other enemy combatants.
"My view is that the Supreme Court instead has essentially provided a legal road-map to the president on how to authorize questionable interrogation, surveillance and other tactics that endanger civil liberties without really making us safer," Kende said.
He provided commentary to numerous other speakers, took several tours of historical sites on the Oxford campus and visited former British Prime Minister Winston Churchill's family mansion. In addition, he stopped in London and met with a magistrate to compare judicial procedures.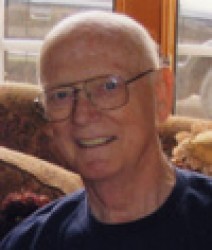 R. Dean Wright
Prof. Dean Wright remembered for his commitment to teaching and activism
R. Dean Wright, the Ellis and Nelle Levitt professor emeritus of sociology at Drake University, died Friday, Aug. 15, after a year-long battle against cancer. He was 69.
Professor Wright was noted for his devotion to students, his tireless community service and his unwavering commitment to social justice. Donations may be directed to the Dean and Sue Wright Faculty Development fund at Drake or to the Des Moines Area Religious Council Foundation.
One of his former students, Bonnie Kern, recently wrote a piece for the Des Moines Register in which she described how "Dr. Dean" served as her mentor and helped her put her life back together after she served a seven-year prison term for bouncing a check.
Wright encouraged her to pursue a bachelor's degree in sociology, which she earned at Drake in 2000. He also urged her to continue her studies in graduate school and to share her story with others. She plans to complete her master's degree in rehabilitation counseling at Drake in May 2009 and has published her first book, a novel titled "Proclivity."
Read her story on the Register's Web site. 

To view photos of Wright in the many roles he played at Drake over the years, visit the University's online photo gallery. 

Teaching lessons under the bridges of Polk County
Wright, an internationally renowned scholar, was best known locally for his tireless community service and for teaching generations of students about poverty, homelessness and crime.
His lessons weren't limited to the classroom, however. He often invited his students to join him before dawn in helping the Salvation Army serve breakfast to homeless people living under bridges, in abandoned houses and on the streets of Des Moines.
"A lot of people believe that homelessness is a natural condition," Wright told the Des Moines Register in 1994. "I believe it's an unnatural condition, one that we have imposed upon people."
Through their first-hand encounters with homeless people, the students came to understand that homelessness is an intractable problem with far more complex causes than simply bad personal choices, bad people and bad luck.
"Sitting with a person under a bridge or in the woods near the river bank, sharing a cup of coffee, and talking about their lives, at least the part that they were willing to share, brought the opportunity for understanding what those who had never been there could not share," Wright said as part of his Paul Morrison Relays Lecture in 2001. The lecture was titled "Under the Bridges of Polk County: A Laboratory for Teaching and Research."
Wright represented the highest ideals of Drake in its community outreach
"Dean Wright was the model for what it means to be a faculty member at Drake University," said Drake President David Maxwell. "He was a superb teacher and mentor for out students, an internationally recognized scholar and a highly respected faculty leader. . . Dean's passing leaves a huge hole in the fabric of Drake University, in central Iowa and in our hearts."
"He will be remembered as a professor who cared deeply for students, a person who applied his discipline in the community, a mentor who provided helpful advice to many young faculty members," Drake Provost Ron Troyer said. "His most important legacy is the remarkable impact he had on the thousands of students who took his classes. He will be greatly missed."



Read more comments about Wright from his colleagues and notable community and state leaders online.
Wright joined the Drake faculty in 1971 after earning his bachelor's and master's degrees from Pittsburgh State University and his Ph.D. from the University of Missouri at Columbia. He moved rapidly through the academic ranks to full professor and served as chair of the sociology department and director of the criminal justice program.
His scholarly work encompassed a wide array of subjects, including poverty and homelessness, throw-away-kids, juvenile crime, alternatives to incarceration, the sociology of punishment and the Anglo-Indian Community, a topic he first explored as a Fulbright scholar in India.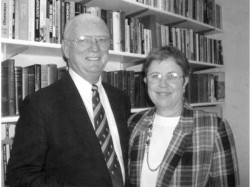 Dean and Susan Wright were honored for their contributions to the Midwest Sociological Society in 2002.
'The right stuff' for partnership at home and work
His wife, Susan, joined the Drake faculty after completing her
doctorate in sociology at Iowa State University. She went on to chair
the sociology department and served as dean of the College of Arts and
Sciences before assuming her current post as associate provost.
The couple collaborated on many projects, including studies of the
homeless throughout Iowa. Both were active leaders in the Midwest
Sociological Society, which honored them in 2002 with the creation and
dedication of the Wright Garden near Howard Hall on the Drake campus.
Although Wright formally retired in 2004, he continued to teach classes
through 2005 and also served as an instructor in Drake's RaySociety,
which promotes lifelong learning. Retirement gave him the opportunity
to spend more time with his wife, his son and daughter-in-law, Ehren
and Michelle Stover-Wright, and his grandchildren, Aiden and Ella.
Reaching far beyond the ivory tower of academia
A prolific writer throughout his career, Wright produced more than 50
articles published in professional journals and was the author or
co-author of numerous books. His most recent books reflect his intense
interest in using academic research and expertise to help solve
real-world problems.
"Applying Sociology: Making the World a Better Place," was published in
2001. His final book, released in 2007, is titled "Politics in the
Human Interest: Applying Sociology in the Real World."
In his quest to make the world a better place, Wright co-chaired an
effort to fund a local homeless youth center and co-chaired community
focus projects for United Way of Central Iowa and Polk County. He also
embraced leadership roles in numerous community, state, regional and
national boards and commissions. His service included:

Chair of the Board of the Greater Des Moines Salvation Army
Chair of the Iowa Criminal and Juvenile Justice Advisory Council for 14 years
Member of Attorney General Tom Miller's Task Force on Juvenile Justice
Chair of Attorney General Bonnie Campbell's Blue Ribbon Task force on Sentencing
Chair of Gov. Terry Branstad's Task Force on Homelessness
Original Board Member of Urban Dreams in Des Moines
Chair of Compassion in Action for the Des Moines Area Religious Council
"Compassion in Action" is an apt description of Wright himself, who
received dozens of awards for his exemplary and extraordinary volunteer
service over the years. Among these honors were:

Induction into the Iowa Volunteer Hall of Fame
The Midwest Sociological Society Distinguished Service Award
The Iowa Community Action Association's Partnership Award
The Amnesty International Humanitarian Award for Public Service
The Governor's Outstanding Volunteer Award for his study of Iowa's homeless children and homeless families
The Madelyn M. Levitt Distinguished Community Service Award at Drake University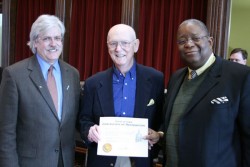 Legislators Jack Hatch, LA'72, GR'73, left, and Wayne Ford, ED'74, congratulate Dean Wright at the State Capitol.
Iowa legislators paid tribute to Wright last spring
Last spring, the Iowa Legislature honored Wright for his "lifetime of
achievement and dedication to social justice, which have made Iowa a
better place for us all."
The House of Representatives presented Wright with a Certificate of
Recognition for his "commitment to teaching and activism; as well as
showing a commitment to social activism, justice and community service."
The Senate also recognized Wright and his family, noting that he has
"conducted his life and work in partnership with his wife, Susan
Wright, and with his son and daughter-in-law, Ehren and Michelle
Stover-Wright, and grandchildren Aiden and Ella."
Read more comments about Wright from his colleagues and notable community and state leaders online.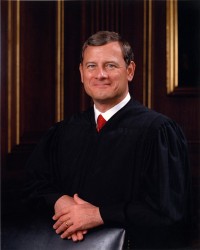 John G. Roberts Jr.
Chief Justice John G. Roberts Jr. to give Opperman Lecture
Chief Justice of the United States John G. Roberts Jr. will deliver the 11th Dwight D. Opperman Lecture in Constitutional Law at Drake University on Thursday, Oct. 2.
The lecture, which is free and open to the public, will start at 3 p.m. in the Drake Knapp Center, 2525 Forest Ave., Des Moines.
Dwight D. Opperman, a 1951 Drake Law School graduate, endowed the lecture series in 1988 to recognize the importance of constitutional law to the nation and enhance its emphasis at Drake Law School. Opperman, chairman of Key Investments, has been a major benefactor of Drake University and Drake Law School.
President George W. Bush appointed Roberts to the U.S. Court of Appeals for the District of Columbia Circuit in 2003. He was nominated as Chief Justice of the United States by President Bush two years later and, after being confirmed by the U.S. Senate, Roberts took his seat on the Supreme Court on Sept. 29, 2005.

Roberts holds a bachelor's degree from Harvard College and a law degree from Harvard Law School. He served as a law clerk for Judge Henry J. Friendly of the U.S. Court of Appeals for the Second Circuit from 1979-80 and as a law clerk for then-Associate Justice Rehnquist during the Court's 1980 term.

From 1981-82, Roberts was special assistant to the U.S. attorney general. He served as associate counsel to President Ronald Reagan from 1982-86. He was principal deputy solicitor general in the U.S. Department of Justice from 1989-93. He practiced law in Washington, D.C., from 1986-89 and 1993-2003.
The Opperman Lecture — always well attended by students, legal dignitaries, the university community and members of the public — presents opportunities for students to contemplate the Constitution with a member of the nation's highest tribunal. Justices interact directly with students by teaching a law class, engaging in off-the-record question-and-answer sessions, or meeting with small groups of student leaders.
The following current and former U.S. Supreme Court justices have presented Opperman Lectures:

• Justice Stephen Breyer

• Justice Antonin Scalia

• Justice Clarence Thomas

• Chief Justice William H. Rehnquist

• Justice Ruth Bader Ginsburg

• Justice Sandra Day O'Connor

• Justice Anthony M. Kennedy

• Justice Lewis F. Powell

• Justice Harry A. Blackmun
Justices Scalia and Thomas thought so much of the experience that they both returned to Drake. Justice Scalia gave his first Opperman Lecture in 1992, and then came back in 2002 to deliver a second one. After presenting the Opperman Lecture in 1999, Justice Thomas returned in 2000, 2002 and 2006 to teach a special one-week seminar on the Supreme Court.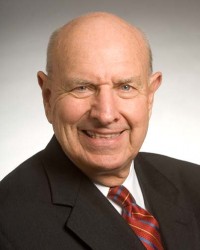 Former ambassador to deliver Bucksbaum Lecture Oct. 5
By Emilee Richardson
Thomas R. Pickering, former ambassador and undersecretary of state for political affairs, will present "America's Role in the World: Foreign Policy Choices for the Next President," this fall's Martin Bucksbaum Distinguished Lecture at Drake University. The free, public lecture on Sunday, Oct. 5, will begin at 7:30 p.m. in the Drake Knapp Center, 2525 Forest Ave.
In a diplomatic career spanning five decades, Pickering has served on each of the major continents and reached the rank of career ambassador, the highest in the U.S. Foreign Service. He acted as U.S. ambassador to Russia, India, Israel, El Salvador, Nigeria and the Hashemite Kingdom of Jordan.
From 1989 to 1992, Pickering was the U.S. ambassador and representative to the United Nations in New York, where he led the U.S. effort to build a coalition in the U.N. Security Council during and after the first Gulf War.
Pickering served as executive secretary of the department and special assistant to Secretaries of State William P. Rogers and Henry A. Kissinger in the 70's and as undersecretary of state for political affairs from 1997-2000.
After retiring from the State Department, Pickering joined The Boeing Company as senior vice president of international relations and member of the Executive Council. He was responsible for the company's relations with foreign governments and the globalization of Boeing.
Now, he serves as vice chairman of Hills & Company, International Consultants.
Pickering has held additional positions in Tanzania, Geneva and Washington. He speaks French, Spanish and Swahili fluently and also is proficient in Arabic, Hebrew and Russian.
A U.S. Navy veteran, he served on active duty from 1956 to 1959 and later served in the Naval Reserve to the grade of lieutenant commander.
Pickering holds several degrees:
• Bachelor of Arts, cum laude, in history from Bowdoin College
• Master of Arts in law and diplomacy from the Fletcher School of Law and Diplomacy at Tuffs University
• Master of Arts from the University of Melbourne in Australia, where he studied under a Fulbright Scholarship
• Honorary doctorate degree in law from Bowdoin College; he has received similar honors from 12 other universities
In 1983 and 1986, Pickering won the Distinguished Presidential Award and, in 1996, the Department of State's highest award, the Distinguished Service Award.
The Martin Bucksbaum Distinguished Lecture Series is made possible by a gift from Melva and the late Martin Bucksbaum, former chairman and president of General Growth Corp. and longtime member of Drake's governing board.
For more information about the event, call 515-271-3994 or e-mail susan.breakenridge@drake.edu.

Juan E. Mendez, Orin S. Kerr and Phoebe Haddon
Constitutional Law Lecture series to feature highly accomplished attorneys and scholars
This year, as part of its constitutional law lecture series, Drake will host an international human rights advocate, a criminal law expert and a legal scholar who studies gender and equality.
The 2008-2009 Distinguished Lecture Series, which is free and open to the public, will feature the following lectures presented by Drake Law School's Constitutional Law Center:
• "Transitional Justice: The Dilemma of Pursuing Peace and Justice Simultaneously in an Ongoing Conflict," by Juan E. Mendez, president of the International Center for Transitional Justice, 4 p.m., Thursday, Sept. 18, room 213 Cartwright Hall. Mendez's lecture is part of Drake's Constitution Day celebration.
• "The New World of Digital Evidence Collection," by Orin S. Kerr, professor of law, George Washington University Law School, 12 p.m., Monday, Nov. 3, room 206 of Cartwright Hall.
• "Can the U.S. Supreme Court's 'Keyes' Desegregation Decision Unlock Opportunities to Rethink 'Brown' in the 21st Century?" by Phoebe Haddon, professor of law, Temple University, Beasley School of Law, Thursday, Feb. 19, 3 p.m., room 213 of Cartwright Hall.
Additional information about the speakers is available on the Web site.
Read more about the Constitutional Law Center online.

For questions regarding the lecture series, contact Drake Law School at 515-271-2988.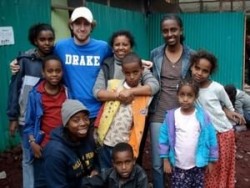 Drake student Josiah Carter and William Penn College student Danielette Harmon with a group of orphans in Ethiopia.
Students experience poverty first-hand in Ethiopia

By Emilee Richardson
Dirty. Polluted. Diseased. Impoverished.
These are a few words students use to describe Addis Ababa, a city in central Ethiopia. Still, 15 students from three Iowa colleges chose to spend part of their summer in the city, helping people and doing mission work.
From July 7 to Aug. 14, students from Drake, Coe College and William Penn University along with staff from InterVarsity Christian Fellowship partnered with students from the Evangelical Student Union of Ethiopia.
Six students from Drake participated in the trip: Josiah Carter, Yoon Jung Choi, Beth Ann Deadmond, Phillip Harder, Jordan Murphy and Autumn Rupkey.
Together, they hoped to reach out to the people and experience the depths of poverty in a Third World country.
During the trip, each American student stayed with an Ethiopian student in the dorms of an Addis Ababa seminary. The students served at one of the following sites:

• Adoption Advocates International — helping and playing with orphans

• Compassion International — tutoring and playing with children and providing training in HIV education

• Hanna Orphans Home — teaching, caring for and playing with orphans

• Win Souls — an indigenous ministry to street children, at-risk kids and young girls formerly engaged in prostitution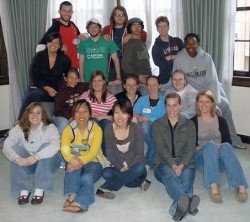 The group of InterVarsity students from the three colleges who traveled to Ethiopia this summer.
Students encounter epidemic of despair
Amy Schoepf, AS'06, Drake's InterVarsity campus staff minister, worked
with Win Souls to help get young prostitutes off the street.
She said some of the youngest girls are 12 and 14. They line miles of
streets in front of 4-by-7 foot tin shacks, offering themselves for 1
to 2 burr per customer — about 10 American cents.
"Because of economic issues, gender issues, injustice and what I would
call an epidemic of despair in this city, many young Ethiopian women
get involved in prostitution," Schoepf said. "It's rampant here."
There are an estimated 70,000 of them in Addis Ababa alone.
Students aim to overcome apathy, ethnocentrism
Josiah Carter, a junior accounting and finance major, hoped to
challenge himself on the trip. "I wanted to have experiences that would
fight against my American apathy and ethnocentrism," he said. "There
are many things we can learn from other cultures."
Carter worked with Adoption Advocates International and taught
geography to 30 middle school students in an orphanage. He said, the
children became strongly attached to the Americans in the short time
they were in Ethiopia.
"As we were leaving, a boy hugged me, told me how much he loved me and
kissed me on the neck," he said. "My Ethiopian roommate explained that
this is the highest level of affection you can show a person."
By the end of the trip, the American students felt a bittersweet sense of accomplishment.
"The poverty is more than I could have imagined," Carter said. "I saw
that the world we live in is not perfect. There is an opportunity,
whether it is here or there, to serve others and change the world for
the better."
"It's been amazing and challenging and terribly disturbing," Schoepf
added, "I'm messed up in a way I never thought I would be — and I'm so
glad."