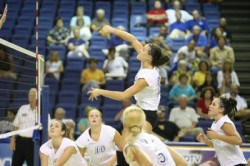 Emily Madden
Drake volleyball team improves to 7-1 with victory over Fresno State
GREEN BAY, WIS. — The Bulldogs closed their stay at the Green Bay Country Inn and Suites Classic with a bang last Saturday registering a 3-2 (17-25, 25-18, 25-19, 20-25, 15-9) victory over Fresno State.
The triumph propelled Drake to 7-1 on the year while returning Fresno State to California at 2-4. The victory allowed the Bulldogs to equal their win total for all of the 2007 season (7).
If Green Bay defeats Northern Arizona in the tournament finale, Drake will capture its second consecutive tournament title. A loss will give the Blue and White a second-place finish.
"We struggled tonight until we put ourselves in a position to block," Bulldog head coach Phil McDaniel commented. "Offensively it wasn't our night, but we were able to survive and get blocks and kills when we needed them."
Drake ultimately won with its defensive tenacity as the Bulldogs finished the affair with a season-high 15.0 blocks, including a season-best 20 blocks assists. Drake turned in seven team blocks alone in the deciding fifth frame.
Freshman Michelle Reidy (Dubuque, Iowa/Wahlert Catholic) was the catalyst to that surge posting nine blocks, including eight block assists, with the final one cementing the victory for Drake. She had entered the final set with only two block assists and zero solo blocks.
Reidy contributed on the offensive end as well recording seven kills against only one error en route to notching a .333 hitting percentage.

Junior Emily Madden (Van Meter, Iowa/Adel DeSoto Minburn) complimented Reidy registering her second double-double of the season with a 10-kill, 11-dig performance.
Sophomore Angela Bys (Marion, Iowa/Marion) directed three Bulldogs with double-digit kills recording 15 to join Madden and sophomore Alisa DeBerg Roth (Hudson, Iowa/Hudson), who netted 10 kills apiece.
Sophomore Alana Wittenburg (Readlyn, Iowa/Wapsie Valley) and junior Lindsay Schryver (Williams Bay, Wis./Williams Bay) contributed 11 and 10 digs, respectively to Drake's defensive surge.
Drake won the match despite losing the statistical column in kills (65-47), assists (60-43) and digs (64-45). Led by three Bulldogs with two service aces apiece, Drake collected a 9-7 margin in service aces.
The Bulldogs will play next on Friday, Sept. 12, as Drake faces Xavier, a 2007 NCAA Tournament participant, at the Iowa Challenge in Ames. The match is slated for 4:30 p.m. in Hilton Coliseum.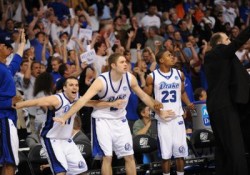 Men's basketball team to begin season with exhibition game against Truman State
For the third straight year, the Drake men's basketball team will play in a school record tying three regular-season tournaments to highlight a 32-game schedule for the upcoming 2008-09 season.
The Bulldogs, under first-year head coach Mark Phelps, will play 10 games against teams that advanced to 2008 post-season play.
Drake will play a school-record 21 home games, including 19 regular-season contests. The Bulldogs will host Truman State in a Nov. 1 exhibition game, followed by a Nov. 9 home exhibition game with Arkansas Tech.
Drake opens its 103rd season of intercollegiate basketball at home, playing host to Butler, which advanced to the second round of the 2008 NCAA Tournament.
Drake will then play four straight games, including two home contests in the inaugural 10-team Cancun Challenge. The Bulldogs will play host to Morehead State Nov. 19 and South Dakota State Nov. 23 before venturing to Cancun, Mexico, for the final two games.
Drake will meet Vanderbilt on Nov. 29 and then either Virginia Commonwealth or New Mexico on Nov. 30.
Vanderbilt, New Mexico and Virginia Commonwealth collected at least 24 victories in 2007-08, with Vanderbilt competing in the NCAA Tournament, while New Mexico and Virginia Commonwealth played in the NIT.
"The schedule is very difficult right off the bat," Phelps said. "But I think our guys are ready to meet the challenge."
Drake opens the Missouri Valley Conference season on the road for the fourth straight year by playing at Evansville Dec. 28. The Bulldogs will face Missouri State in its MVC home opener on New Year's Eve, Dec. 31.
The MVC schedule features eight games against Bradley, Creighton, Illinois State and Southern Illinois which competed in either the 2008 NIT or College Basketball Invitational.
Drake will play a home game in the seventh annual ESPNU BracketBuster series Feb. 20-21. The Bracket Buster pairings will be announced in early February.
The four-day 10-team State Farm MVC Tournament will begin Thursday, March 5, at the Scottrade Center in St. Louis, Mo., and conclude with a March 8 Sunday afternoon championship.
Drake has seven returning letterwinners, including two starters back from last year's team, which posted a school-record 28-5 mark en route to winning the MVC regular season championship for the first time since 1971, while also advancing to the NCAA Tournament.
The complete 2008-09 schedule is posted on the Drake Athletics Web site.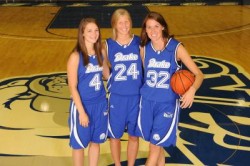 Drake seniors Ashleigh Brady, Kelsey Keizer and Lauren Dybing.
Women's basketball team to start season against Texas State
The Drake women's basketball team enters the 2008-09 campaign facing a formidable 29-game ledger as it looks to become the first Bulldog squad to earn back-to-back regular season Missouri Valley Conference titles since the 1999-2000 and 2000-01 teams accomplished the feat.
The Bulldogs, under the direction of sixth-year head coach Amy Stephens, will be tested by nine squads that advanced to post-season play last season, including four that qualified for the NCAA Tournament.
Drake, which captured its first regular season Missouri Valley Conference title since the 2000-01 campaign and 19th overall post-season berth in school history last season, will tip off its 35th intercollegiate season on Nov. 14 as the Bulldogs host 2008 Women's National Invitation Tournament participant Texas State at 7 p.m.
The 2008-09 ledger is highlighted by 14 games in the Knapp Center, where Drake went 13-3 a year ago to push its overall record in the facility to 158-45 (.778), including 56-22 (.718) under Stephens.
Drake opens the Missouri Valley Conference portion of its schedule with a New Year's Day tilt at Indiana State before tangling with Illinois State Jan. 3, the 2008 MVC Tournament champions.
The Bulldogs open the home portion of their league slate against Wichita State Jan. 8.
The Bulldogs will look to capture their 11th NCAA tournament berth at the 2009 State Farm Missouri Valley Women's Basketball Championship, hosted by the Family Arena in St. Charles, Mo., March 12-15, 2009.
The Bulldogs return three starters from their 2007-08 squad that registered a 23-11 mark en route to winning a share of the regular season MVC title with Illinois State and Evansville.
The full schedule is posted on the Athletics Web site.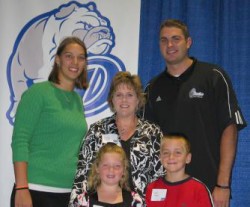 Jill Martin (left) and Brent Heemskerk with members of the Tim Howlett family.
Basketball players Emmenecker, Martin receive Howlett Award
Adam Emmenecker and Jill Martin, who led the Drake men's and women's basketball teams to respective Missouri Valley Conference regular season titles last year, have been named co-recipients of the Tim and Jerry Howlett Memorial Award.
The award, which was presented at Drake's annual Bulldog Corn Feed, is given annually to honor the outstanding student-athlete at Drake from the past school year. Brent Heemskerk accepted the award on behalf of his former teammate Emmenecker, who is playing professional basketball in Germany.
Emmenecker arrived at Drake as a walk-on and didn't earn a scholarship until one day before school started during his senior year in college.
He was as instrumental as anyone in helping Drake post a school-record 28-5 mark, winning its first MVC title since 1971, while capturing its first ever MVC Tournament championship and advancing to the NCAA Tournament for the first time since 1971.
The guard, who set a school single-season record with 213 assists, also earned honorable mention honors on the Associated Press All-America men's basketball team.
He captured every major award in the MVC, being named recipient of the Larry Bird Player of the Year award, the outstanding player of the State Farm MVC Tournament, as well as captain of the MVC most improved team.



Emmenecker, who is playing professional basketball in Germany, also enjoyed success off the court, while owning four majors.
Martin became the fourth player in Drake women's basketball history to become a three-time first-team All-Missouri Valley Conference performer.
She turned in the best offensive campaign of her career, registering team highs in scoring (16.8) and rebounding (9.1) in helping spark the Bulldogs to their first regular season MVC title since the 2000-01 campaign. _
Martin also was selected to the first-team MVC women's basketball scholar-athlete squad, as well as being named to the MVC all-tournament team after leading Drake to the championship game.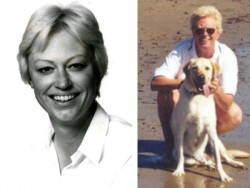 Betty Warner
Former athletic administrator remembered for impact on Drake women's basketball
TORRANCE, CALIF. — Betty Warner, who served as Drake's first director of intercollegiate athletics for women, died at her home last Saturday after a five-month battle with cancer. She was 59.
She was the youngest woman administrator in collegiate athletics history (25 years old at the time) and the first female administrator at the University.
Werner directed the women's program through its infant stages when she joined the Drake staff, helping develop the Bulldogs into a national power in women's basketball.
She was a recognized leader in bringing women's athletics under the NCAA banner and held several key positions on NCAA governing bodies.
In1982, she was appointed to the committee of the NCAA's flagship sport,women's basketball. She served on the groundbreaking committee for five years. While with the group, she was the CBS Liaison, bringing women's athletics at the collegiate level to national television for the first time.
"The NCAA was adamant that women's basketball was to be their flagship sport for women," said Nora Lynn Finch, Associate Commissioner of the Atlantic Coast Conference and chair of the original NCAA Women's Basketball Championship Committee Werner served on from 1982-86.
"If you are going to raise up an entire group, you have to raise up the flagship. It was important we established a strong foundation for the sport, to sell it, to market it and to fill the seats" she added. "We did that. Betty, Jim Jarrett and Fern Gardner were cornerstones in the development of this committee. I knew I could give the toughest assignments to Betty and they would get done the right way."
And the coaches she had to work with, including the legendary ones, agreed.
'I have great respect for Betty Werner and her impact on collegiate athletics,' said University of Tennessee Women's Basketball Head Coach Pat Summitt. 'She was very passionate about making a difference and having a positive influence on student-athletes.'
In 1979, when President Jimmy Carter implemented Title IX throughout the collegiate level, women were given the opportunity to have scholarships for the first time at universities around the country and Werner was at the center of it.
As her career continued, so did her involvement. In addition to the basketball committee, Werner served as chairperson on the NCAA Joint Men's and Women's Tennis Committee. Under her direction, Werner brought both the men and women's tennis championship to the same competitive site, bringing a heightened marketing exposure to the sport.
The Dallas, Texas native became associate athletics director for both the Drake men and women's program when they merged in 1981 before resigning in 1987.
Werner had been the senior associate athletics director at Loyola Marymount University since 2000.
She held similar positions at Arkansas State (1999-2000) and Eastern Kentucky(1996-99). She also worked in the private sector as a director for country clubs in Phoenix, Ariz., and Dallas, Texas, (1987-93) and then as a coordinator of concessions at Coors Field for the Colorado Rockies in Denver, Colo. (1994-96).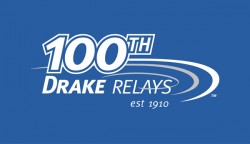 Plans unveiled for celebrating the 100th running of Drake Relays
Drake Relays officials recently revealed plans for celebrating the 100th running of the Drake Relays April 22-25, 2009.
"We're very excited about embarking on the 100th running of the Drake Relays, " said Drake Athletic Director Sandy Hatfield Clubb. "It has become a cornerstone and a fundamental part of who we are."
Drake Relays Director Brian Brown unveiled a special logo commemorating the 100th running of the Drake Relays as well as a four-foot by four-foot countdown clock for the event.
"We want to share some of the vision, history, legacy and destiny that have encompassed the 100 years of the Drake Relays," Brown said. "We want to make sure we remember our past and illustrious history.
"We are indeed America's Athletic Classic and we want to talk about destiny, relating to where do we go from here."
The logo mark is reflective of the history of the Drake Relays with the track starting in 1910 while making its way to the 100th running.
There will be three countdown clocks located around the city of Des Moines.
Brown also said the Drake Relays fans will have an opportunity to help decide the greatest moments in Drake Relays history as well as selecting the athletes of the century by visiting a newly launched Web site.
Drake Relays fans also will have an opportunity to purchase a commemorative 100th Drake Relays highlight DVD and a special book on the 100-year history of the Relays, authored by longtime historian Bob Spiegel.